NEW YORK (AP) — Tyler Glasnow flummoxed the Yankees for six innings, Ji-Man Choi and Kevin Kiermaier homered off Gerrit Cole, and...
FORT MYERS, Fla. (AP) — He's been a fixture for so long in the Boston Red Sox lineup that it seems hard...
FT. MYERS - AP - Boston ace Chris Sale will start this season in the same place he ended 2019: on the...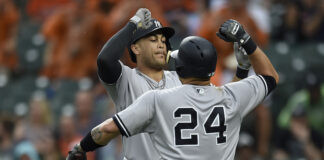 Both the Yankees and Red Sox are off to tremendous starts, looking at times like the best two teams in baseball.  This has the Bronx Bombers sitting in a unique position:  They're a half game out of first place, yet they have a slightly higher winning percentage than the rival Boston Red Sox.
ST. PETERSBURG, Fla. (AP) — The Tampa Bay Rays keep winning — and drawing sparse crowds at home. Austin...
Tampa Bay Rays left-hander Blake Snell boosted his Cy Young Award chances with another brilliant outing against the Blue Jays.
Mookie Betts and the Red Sox won their third consecutive AL East championship Thursday night, clinching on enemy turf with an 11-6 victory over the rival New York Yankees.
Blue Jays right-hander Marcus Stroman got roughed up early in his return from the disabled list, Ji-Man Choi added a solo homer and the Tampa Bay Rays beat Toronto 7-1 on Monday night.
After making a guest appearance in the starting rotation, it's back to the bullpen for Sonny Gray. The New York Yankees right-hander can take consolation in knowing he's still got the talent to effectively go deep in a game.
The Tampa Bay Rays rallied back from an early deficit to beat the Baltimore Orioles and take a prove-it series against a team they should be beating.