The Tampa Bay Rays once again came back from trailing late in the ballgame, scoring a tying run in the seventh and a go-ahead run in the eighth, but the Baltimore Orioles hit Sergio Romo hard in the ninth inning to take a 5-4 victory and retake the lead in their season series with Tampa Bay on Wednesday night. 
Andrew Benintendi's hit bounced a handful of times before finding its way into center field for the winning run and a big four-game sweep over the rival Yankees.
When Steve Pearce's third homer of the game clanged off the light tower above the Green Monster, a few fans behind home plate tossed their caps onto the field to celebrate his first career hat trick.
Yankees starter Masahiro Tanaka extended his unbeaten streak to 13 starts in a victory over an Orioles team shedding veterans at the trade deadline.
Danny Valencia snapped an 0-for-25 skid with a three-run homer off CC Sabathia, and the Baltimore Orioles snapped a six-game skid with a 5-4 victory Monday in the opener of a doubleheader.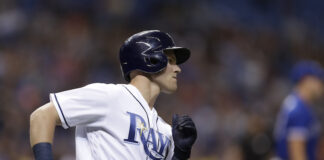 It was a night of firsts for the Tampa Bay Rays. It was the first game with both Willy Adames and Jake Bauers in the lineup, and Bauers hit his first home run as the Tampa Bay Rays defeated the Toronto Blue Jays 5-4 on Monday night behind a gutty performance out of Ryan Yarbrough.
Miguel Andujar hit his first career grand slam, CC Sabathia pitched seven innings to snap a five-start winless streak and the New York Yankees beat the Toronto Blue Jays 7-2 on Tuesday night.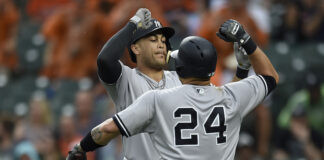 Giancarlo Stanton and Miguel Andujar homered to help Masahiro Tanaka win his fifth straight decision, and the Yankees beat Baltimore 8-5 on Saturday to extend the Orioles' losing streak to seven games.
New York parlayed a solid pitching performance by Sonny Gray and a home run by Aaron Judge into a 4-1 victory over the Baltimore Orioles on Friday night.
The Tampa Bay Rays are a winning baseball team at 27-26 after a 4-3 win over the Oakland Athletics on Tuesday night.