Home
Tags
Baltimore Orioles
Florida News: Baltimore Orioles
Booed as he walked off the Yankee Stadium mound in the third inning, Sonny Gray smiled. A few moments later, third base coach Phil Nevin screamed at players in the New York dugout.
Yankees starter Masahiro Tanaka extended his unbeaten streak to 13 starts in a victory over an Orioles team shedding veterans at the trade deadline.
Adam Jones had three hits and an RBI in what could be his final game with the Orioles, and Baltimore beat the Tampa Bay Rays 11-5 on Sunday for a rare series win.
The Baltimore Orioles scored double digit runs against the Tampa Bay Rays for the second consecutive game en route to a 11-2 win.
The Tampa Bay Rays were gifted the winning run in defeating the Baltimore Orioles 4-3 to open their four game series.
Greg Bird hit his first career grand slam to back a dominating pitching performance by Sonny Gray, and the New York Yankees beat the Baltimore Orioles 9-0 Wednesday night for a split of the four-game series.
Danny Valencia snapped an 0-for-25 skid with a three-run homer off CC Sabathia, and the Baltimore Orioles snapped a six-game skid with a 5-4 victory Monday in the opener of a doubleheader.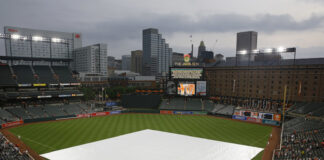 Rumor du jour. https://www.youtube.com/watch?v=nquO3G5tqMs&t=1s Baltimore Sun writer Peter Schmuck had an interesting column last week about the long term future of Major League Baseball's Baltimore Orioles...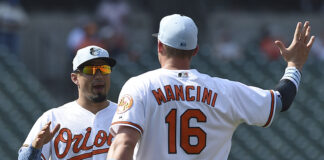 Jace Peterson and Mark Trumbo homered and the Baltimore Orioles snapped a nine-game losing streak with a 10-4 victory over the Miami Marlins on Sunday.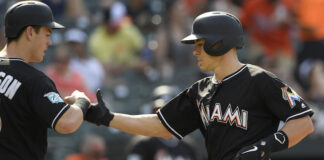 During a horrid stretch in which the Baltimore Orioles keep finding ways to lose, J.T. Realmuto did his part to extend the downward spiral.