Home
Tags
Baltimore Orioles
Florida News: Baltimore Orioles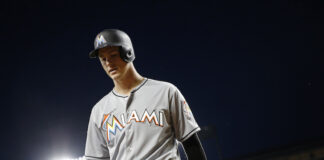 In an interleague matchup between two offensively challenged last-place teams, a pair of runs was plenty for the Miami Marlins against the light-hitting Baltimore Orioles.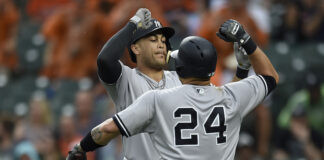 Giancarlo Stanton and Miguel Andujar homered to help Masahiro Tanaka win his fifth straight decision, and the Yankees beat Baltimore 8-5 on Saturday to extend the Orioles' losing streak to seven games.
New York parlayed a solid pitching performance by Sonny Gray and a home run by Aaron Judge into a 4-1 victory over the Baltimore Orioles on Friday night.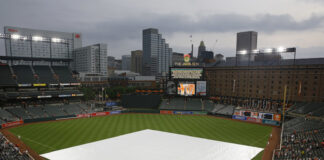 The opener of a scheduled four-game series between the New York Yankees and Baltimore Orioles on Thursday night was postponed by rain. A steady rain began to fall shortly before the planned 7:05 p.m. start, and the game was called after a delay of just under two hours.
The Tampa Bay Rays went 0-for-8 with runners in scoring position and had three runners thrown out on the bases as they were shutout by the Baltimore Orioles 2-0 Friday night.
Can the recent Supreme Court Of The United States decision to overturn the ban on sports betting in 46 states, along with US territories and the District of Columbia save Pimlico racetrack in Baltimore, Maryland? The Preakness Stakes, thoroughbred racing's second oldest Triple Crown race started at Pimlico in 1873.
Joey Rickard had his first big league multihomer game and drove in four runs. The Orioles scored their most runs in three years in a 17-1 rout over the Tampa Bay Rays on Sunday.
In the opener, Hess pitched six effective innings for Baltimore in his major league debut and Jonathan Schoop hit two home runs in a 6-3 victory. Then, Brad Miller and C.J. Cron homered off former teammate Alex Cobb, and Tampa Bay breezed to a 10-3 win to earn a split and snap a five-game losing streak.
Manny Machado hit two home runs, including his eighth career grand slam , and the Orioles beat the Tampa Bay Rays 9-4 on Friday night for their season-high third straight victory.
Manny Machado is a generational talent and the type of can't miss ball player that any baseball fan must behold in person to truly appreciate. He is graceful with his mitt, he can hit for power, he will anchor your lineup, and he should be a Yankee.