Florida News: Boston Red Sox
Mookie Betts and Mitch Moreland hit back-to-back homers in the 8th inning to propel the Boston Red Sox to a 6-4 victory over the Tampa Bay Rays.
There is money is baseball https://www.youtube.com/watch?v=zW7hhnWG5YE Every year Forbes Magazine comes out...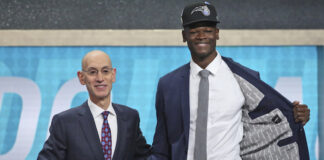 Going global. https://www.youtube.com/watch?v=MGnVq_98erQ While the National Basketball Association daily story seems to have drifted into soap opera land whether it is a storyline about LeBron James...
Euros speak. https://www.youtube.com/watch?v=ZtlC82Dfrp4&t=5s The National Basketball Association is trying to figure out its international stops for the 2019-2020 season. London has been part of an international...
They are trying to figure it out. https://www.youtube.com/watch?v=_vGMzG5xLZI&t=6s The 2019 Major League Baseball spring training season is rapidly approaching. Teams will set up shop in modern...
Just five of the top 10 spenders made the playoffs, with San Francisco and Washington missing along with the Los Angeles Angels (seventh at $177 million), St. Louis (eighth at $166 million) and Seattle (10th at $162 million).
The Rays still haven't landed their big fish and things have been relatively quiet in the AL East. Here's a look at what's happening.
Minor League Baseball's annual winter meetings kickoff in Las Vegas but it is Major League Baseball that steals the show as the meetings produce trade rumors, signing rumors and actual trades and signings.
Major League Baseball is in the middle of its All Star tour of Japan. Recently, National Hockey League Commissioner Gary Bettman said the league has plans to stage 2019 pre-season games in Germany and Switzerland with regular season games in Prague, the Czech Republic and Stockholm, Sweden.
David Price proved his postseason mettle, Steve Pearce homered twice and Boston beat the Los Angeles Dodgers 5-1 on Sunday to finish off a one-sided World Series in five games.