Florida News: Brad Miller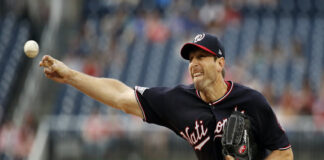 The Tampa Bay Rays were unable to solve the mystery of Max Scherzer who punched out 13 in the Nationals 4-2 win. It was the Rays fifth straight loss dropping them to 28-31 on the season.
The Tampa Bay Rays scored eight unanswered runs as they defeated the Baltimore Orioles 8-3. Vidal Nuno worked in relief of the opener Sergio Romo for his first win as a Ray. Austin Pruitt picked up the rare 5.2-inning save.
The Tampa Bay Rays scored three times in the ninth inning and then held on as the Tigers scored twice in their half of the ninth en route to a 3-2 win. Jake Faria worked a career high 8-innings for the win and Jose Alvarado picked up his first big league save.
The Tampa Bay Rays injuries have been mounting early in the 2018 season. Both at the ML level and in the minors. Brad Miller appears to be set to return Friday night against the Twins.
Offense Stifled By Red Sox Pitching https://embed.air.tv/v1/embed/tkrECrOrTJ6gHQ186cg-Fw/oTBxQb-0S56gkw7m9smoBQ?video_sizing=fixed&video_width=560&video_height=315&show_player_title=false&show_div_title=false&show_div_description=false The Tampa Bay Rays were defeated by the Boston Red Sox by a final score of 2-1. It was...