It's been said many times before.  The UFC needs superstars.  Are they getting desperate?  Maybe.  CM Punk did just fight...on pay-per-view...for a second time...even though he was dominated for over two minutes in his first fight.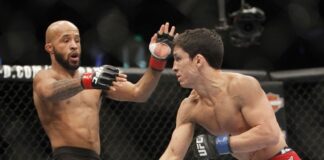 The main event of UFC 225 is a good one, featuring a rematch between the two best fighters in the world at 185 lbs.  Robert Whittaker will look to defend his middleweight belt for the first time against #1 Yoel Romero.  Whittaker (19-4) won the interim belt when he faced Romero (13-2) at UFC 213 last July.
White on Mayweather: "We'll see what happens" UFC President Dana White was on UFC Tonight on Wednesday night and spoke a number of different topics. White...