After the Nevada Commission Refuses to License Jones, the Whole Card Moves to California Yet another black eye for Jon Jones and his legacy and...
UFC 229 was headlined by one of the most anticipated fights in the organization's history. The most popular fighter in the UFC, Conor McGregor, was looking to not only win back the lightweight championship he was stripped of but also hand Khaibib Nurmagomedov his first loss.
Many times after a fight ends between fighters who had bad blood, the two fighters embrace, with the fighters earning one another's respect after the battle the two just endured. This wasn't one of those times.
This fight isn't your average "these guys don't like each other" matchup. This is Russia versus Ireland. A Champion versus a former two-division champion. The hate is real between Khabib Nurmagomedov and Conor McGregor.
Former UFC light heavyweight champion Jon Jones has been handed a 15-month suspension by the United States Anti-Doping Agency and will be able to return to the octagon by October 28th.
UFC 230 has it all. It's at Madison Square Garden. The co-main event features the long-awaited return of Nate Diaz who is fighting the soaring Dustin Poirier. Six of the top ten middleweights are also on the card. Yep, the card pretty much has everything. That is...except for the main event.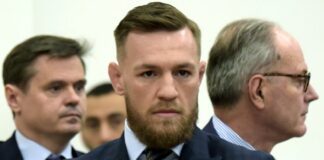 Conor McGregor spent more time in a courtroom today than he spent inside the octagon in the past year. McGregor's court hearing was like many of his past fights: quick.
It's been said many times before.  The UFC needs superstars.  Are they getting desperate?  Maybe.  CM Punk did just fight...on pay-per-view...for a second time...even though he was dominated for over two minutes in his first fight.
The UFC and ESPN have officially announced a partnership that makes "The Worldwide Leader in Sports" the exclusive digital and television home of the UFC beginning January 1st, 2019.
Chuck "The Iceman" Liddell was the MMA Hour and said he is looking for a third fight against former foe Tito Ortiz.  The 48-year-old Liddell is hoping to get a deal with Oscar de la Hoya to help promote the fight under Golden Boy's potential move to MMA.