Home
Tags
Demetrious Johnson
Florida News: Demetrious Johnson
With his victory over Derrick Lewis Saturday night at UFC 230, Daniel Cormier became the first fighter in UFC history to defend two belts in two different weight classes. What's most impressive is that he was able to defend both the belts while holding the belts simultaneously. Cormier has defended both belts in an eleven month span.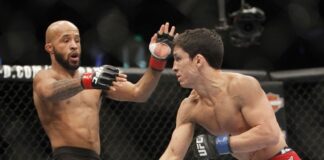 The main event of UFC 225 is a good one, featuring a rematch between the two best fighters in the world at 185 lbs.  Robert Whittaker will look to defend his middleweight belt for the first time against #1 Yoel Romero.  Whittaker (19-4) won the interim belt when he faced Romero (13-2) at UFC 213 last July.
White on Mayweather: "We'll see what happens" UFC President Dana White was on UFC Tonight on Wednesday night and spoke a number of different topics. White...
The Two Champs Will Coach TUF, Fight At UFC 226 When the UFC's three biggest superstars (Conor McGregor, Jon Jones and Ronda Rousey) all have...
UFC 216 In Sin City Will Still Happen This Saturday The UFC is doing everything they can do to help those affected by the mass...