Florida News: Domingo German
The Tampa Bay Rays jumped out to a 2-0 lead but New York scored twice in the second and three times in the fifth en route to a drama free 6-2 victory over the Rays.
The Tampa Bay Rays lost Tyler Glasnow to a forearm injury and were defeated by the New York Yankees 4-3 in their first matchup of the season.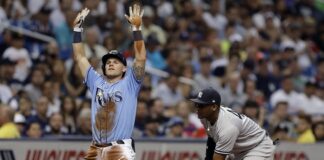 The young Domingo German was tested in the finale with the Yankees dropping the first two games of this set against the 3rd place Tampa Bay Rays. The Rays countered with a bullpen day featuring Matt Andriese on the hill. German was asked to halt the Rays momentum and pitch the Yankees to a crucial series salvaging win.