Florida News: Houston Astros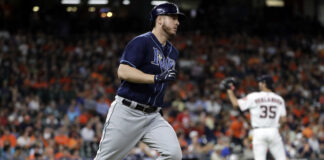 C.J. Cron homered early and Wilson Ramos hit a tiebreaking RBI single in the eighth inning to lift the Tampa Bay Rays to a 2-1 win on Tuesday night to snap a 12-game winning streak by the Houston Astros.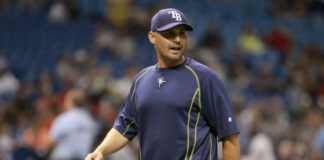 The Tampa Bay Rays have become first team to get back over .500 before end of May after being 9 or more games under since the 2009 Padres. Now the schedule turns to June, and the schedule makers didn't make it easy for this team to avoid the June swoon.
Gleyber Torres made a throwing error after gloving a grounder on the very first pitch of the game. The second baseman let a two-hopper kick off the heel of his glove in the seventh for the fourth of the Yankees' five errors.
Justin Verlander slowed down the highest-scoring team in the majors, picking off a familiar opponent by pitching the Houston Astros past New York 5-1 Monday.
Did you hear that the Miami Marlins and the St. Louis Cardinals baseball teams owners are unhappy with the shared spring training facility in Jupiter, Florida? But the two team owners have an idea.
The Houston Astros and New York Yankees met up in a rematch of last year's American League Championship Series in this early May showdown. The Astros squeaked out game one 2-1, the Yanks took the next 4-0 with all runs coming in the ninth inning and in the last game, the Bronx bombers rode Ace Luis Severino to another 4-0 win.
Baseball officials were lost in the aftermath. https://www.youtube.com/watch?v=vgnZwgPnKzA&feature=youtu.be Fifty years ago today, the Reverend Dr. Martin Luther King Jr. was gunned down in Memphis, Tennessee. The...
More news as Spring Training rolls on Bartolo Colon could always throw strikes. Two months shy of turning 45, he still can. Colon filled up the...
Gurriel already slated for five game suspension Houston Astros first baseman Yuli Gurriel will have to wait even longer before playing this season. Gurriel had surgery...
Our year-end review of 2017's biggest local sports stories continues https://embed.air.tv/v1/embed/ED5SCAi3Tb2H4CRSsJCAnQ/oTBxQb-0S56gkw7m9smoBQ?video_sizing=fixed&video_width=560&video_height=315&show_player_title=false&show_div_title=false&show_div_description=false 13:  Lightning Dominate Early Season Schedule With Steven Stamkos returning from an injury that sidelined him...