Mike Trout remains skeptical about the wisdom of completing the full baseball season amid the coronavirus outbreak, and the Los Angeles Angels'...
TEMPE, Ariz. (AP) — Three days after Joe Maddon's 66th birthday, the Los Angeles Angels' new manager sat down in a familiar...
[youtube https://www.youtube.com/watch?v=cw4v9sdaFPk&w=560&h=315] SAN DIEGO (AP) — Third baseman Anthony Rendon and the Los Angeles Angels agreed to a $245...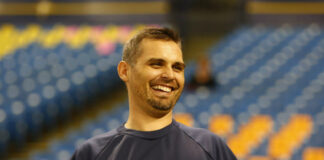 The Tampa Bay Rays provided stability in their dugout by extending Manager Kevin Cash through the 2024 season with an option for 2025.
Friedman/Maddon Depart - Organization Reshuffles It was something fans of the Tampa Bay Rays were not used to. Not since 2007 had the team finished...
Dave Martinez, former Rays coach now to manage the Nationals and will likely face his mentor Joe Maddon in the playoffs.