Florida News: lebron james
The Major League Baseball All Star Game was supposed to be a celebration of the game, the best of the Boys of Summer on display for an international audience. But something clearly was wrong.
The four-time NBA MVP announced Sunday night that he has agreed to a four-year, $154 million contract with the Lakers, joining one of the league's most storied franchises and switching conferences to try and dethrone the Golden State Warriors and grow his own legacy.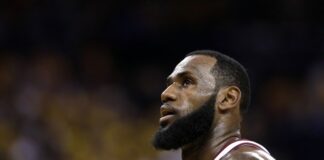 Will he stay in Cleveland? Head back to South Beach and play with the Heat? Explore his creative side in Los Angeles? Stun the world by heading to Philadelphia? then there is Houston and San Antonio where he could land.
The Houston Rockets star was voted the NBA's Most Valuable Player after twice being runner-up, beating out four-time winner LeBron James and Anthony Davis of the Pelicans at the NBA Awards on Monday night.
The where LeBron James will play in the 2018-2019 season storyline continues. But there are those in Cleveland who are hoping that LeBron James remains in the city as a member of Dan Gilbert's Cavaliers business because he means money to some local businesses.
With a win in game 4, Cleveland could be right back to where they need to be.  Sherrod Blakely joined The Guys In The Game with Steve Kyler and Joey Quatato on Sunday to talk about the series, both from Blakely's familiar Boston perspective and with an eye on the Cavs as well.  
The Stanley Cup Playoffs aren't the only postseason well underway.  The NBA is into the second round as well, and Erik Kuselias talked with Steve Kyler of basketballinsiders.com about the various matchups.
Celtics outlook changed dramatically The loss of Kyrie Irving was sure to hurt the Boston Celtics, and Steve Kyler of basketballinsiders.com joins the Erik Kuselias...
INDEPENDENCE, Ohio (AP) — LeBron James has Philadelphia's basketball pulse racing. The NBA superstar still hasn't seen three billboards urging him to join the 76ers,...
Rod Strickland hopes not NBA legend Rod Strickland joins Rock Riley in studio to discuss the possible move of LeBron to Golden State, the circus...