Home
Tags
Matthew Liberatore
Florida News: Matthew Liberatore
[youtube https://www.youtube.com/watch?v=640I8SaQiUA&w=560&h=315] ST. PETERSBURG, Fla. (AP) — The Tampa Bay Rays have acquired first baseman-designated hitter Jose Martinez from...
The Tampa Bay Rays continued their impressive homestand by defeating the Boston Red Sox 10-3 Friday night.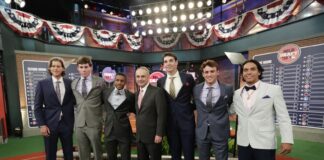 The Tampa Bay Rays selected left handed pitcher Matthew Liberatore out of Mountain Ridge High School in Glendale Arizona. He was projected as the #2 prospect in the draft by Baseball America.