Florida News: Max Scherzer
The 34-year-old Scherzer, a three-time Cy Young Award winner who threw Thursday as part of Washington's first official workout for pitchers and catchers, thinks more teams should be looking for ways to improve.
With a bottle of bubbly at his feet and a baseball with the inscription "300 Ks" in a case in his locker, Max Scherzer allowed himself a moment to consider what he'd just accomplished.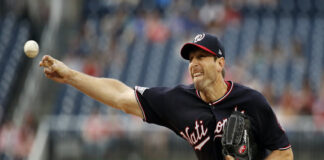 The Tampa Bay Rays were unable to solve the mystery of Max Scherzer who punched out 13 in the Nationals 4-2 win. It was the Rays fifth straight loss dropping them to 28-31 on the season.
Make no mistake about it the Marlins were happy to get 2-1 win over the first place Nationals. They did not get their first two hits until the eighth inning, but that is all they needed to get the victory. The Washington Nationals star pitcher Max Scherzer's bid for the third no-hitter of his big league career ended with one out in the eighth inning. The no-hitter bid went by the wayside as backup catcher A.J. Ellis reached on an infield single, as Scherzer redirected the ball to short but Trea Turner could not make the play and Miami gets their first hit. Then that was followed by an error by first baseman Adam Lind and a hit batter loaded the bases with two outs.