Florida News: Nathan Eovaldi
The Tampa Bay Rays extended their season high win streak to eight in a row by defeating the Boston Red Sox 9-1 on Sunday afternoon.
Another of the Rays' trade dominoes fell on Wednesday morning when Nathan Eovaldi was dealt to the Boston Red Sox in exchange for lefty pitcher Jalen Beeks.  Eovaldi had been slated to start on Wednesday afternoon against the New York Yankees.
The Tampa Bay Rays lost for just the second time in their last 16 games falling to the Miami Marlins 6-5.
The Tampa Bay Rays were unable to rebound from an early 7-run deficit falling to the  Minnesota Twins 11-8.
The weather was nearly perfect and so was Nathan Eovaldi. The right-hander retired his first 18 batters, C.J. Cron hit an early three-run homer and the Tampa Bay Rays routed the New York Mets 9-0 on Sunday.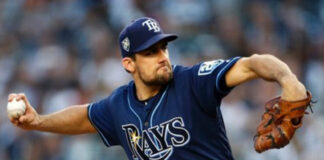 The Tampa Bay Rays dropped to five games under the .500 mark falling to the New York Yankees by a final score of 5-0 on Friday night.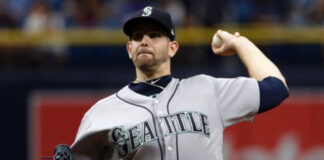 Kyle Seager's 2-run homer in the top of the seventh inning broke a 3-3 tie. That was all the runs the Mariners needed in defeating the Tampa Bay Rays on Sunday afternoon. The Mariners take 3-of-4 against the Rays at Tropicana Field and 6-of-7 in the season series.
Carlos Gomez is set to make his return to the Rays lineup after a brief stint on the disabld list. Nathan Eovaldi will return and start against the Oakland Athletics on Tuesday night, marking his first appearance in MLB since August 2016.
The Tampa Bay Rays injuries have been mounting early in the 2018 season. Both at the ML level and in the minors. Brad Miller appears to be set to return Friday night against the Twins.
Rays Finish Weekend Series Sweep The Tampa Bay Rays traveled north to take on the Detroit Tigers and New York Yankees in back-to-back road games....