Ohio State on Wednesday night suspended head football coach Urban Meyer three games for mishandling domestic violence accusations, punishing one of the sport's most prominent leaders for keeping an assistant on staff for several years after the coach's wife accused him of abuse.
Ohio State trustees on Wednesday began discussing the future of football coach Urban Meyer with Meyer seen entering the building where the meeting was underway.
Texas A&M says it is reviewing allegations of possible NCAA violations by football coaches made by a former player who transferred to Arizona.
This is the time of year that the followers of college football are anxiously reading about or listening to talk radio or watching TV hoping to find out about their favorite team or which players are Heisman hopefuls or which school is unstoppable.
High school principals beware. If you have a top flight basketball player on the campus, chances are you will have an agent hanging around your school advising your big star if the NCAA has its way.
Ohio State will rely on an outside law firm to investigate what coach Urban Meyer knew and did about domestic abuse accusations against a former assistant, a process expected to be completed within two weeks, the university said Sunday night.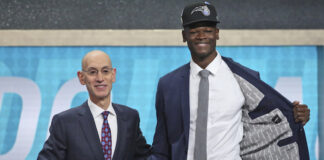 NBA Commissioner Adam Silver has dropped the "let's not allow any players into the league before the age of 20" talking point and is ready to allow extraordinarily talented 18 year old players into the league.
The college basketball industry, which thrives because it is not paying the players that generate interest and bring customers to games or in front of televisions, is still facing a federal probe into business practices.
Sportsbooks have opened in Delaware and New Jersey is slowly expanding the availability of sports betting with another Atlantic City hotel offering the service starting on June 28 and the promise of sports betting at the Meadowlands racetrack about seven miles from midtown Manhattan by July 15th.
The NHL's Vegas Golden Knights franchise will be joined by the NFL's Mark Davis Raiders in two years, the NBA has a summer development league in town and Major League Baseball might be interested in at least kicking the tires and take a look at the city in the event there is an expansion or relocation opportunity in the future.