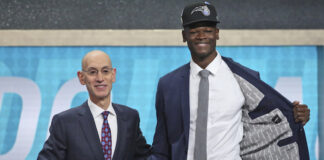 NBA Commissioner Adam Silver has dropped the "let's not allow any players into the league before the age of 20" talking point and is ready to allow extraordinarily talented 18 year old players into the league.
The college basketball industry, which thrives because it is not paying the players that generate interest and bring customers to games or in front of televisions, is still facing a federal probe into business practices.
Sportsbooks have opened in Delaware and New Jersey is slowly expanding the availability of sports betting with another Atlantic City hotel offering the service starting on June 28 and the promise of sports betting at the Meadowlands racetrack about seven miles from midtown Manhattan by July 15th.
The NHL's Vegas Golden Knights franchise will be joined by the NFL's Mark Davis Raiders in two years, the NBA has a summer development league in town and Major League Baseball might be interested in at least kicking the tires and take a look at the city in the event there is an expansion or relocation opportunity in the future.
If NBA Commissioner Adam Silver had his way, the 2018 NBA Draft would be the last time 19-year-olds would be able to enter the NBA. If the players association had its way, 18-year-olds would be eligible to play in the NBA starting in 2019.
Betting is here to stay. https://www.youtube.com/watch?v=h-Z-zzrqudQ The first week of the new American new sports world is over and sports betting in Delaware has not changed...
From the here we go again department, the Knight Commission on Intercollegiate Athletes has come up with a series of proposals that will fix college basketball. But none of the remedies include paying the stars of the show, the players. 
"The goal should not be to turn college basketball into another professional league," the authors of the report stated. But that is wrong. It is a business, an interstate business with college athletic directors looking for every avenue to make money.
If the college sports industry paid student-athletes, there probably would not be an ongoing FBI investigation of the business. The NCAA somehow has sold the notion that it is fine for them to make billions of dollars off of the backs of unpaid labor as long as they give a scholarship to the performers.
Would the coaches coach for nothing? https://www.youtube.com/watch?v=aAJWQKDAfOo&feature=youtu.be It is time for the college basketball championship game. Let's see who will be there. The Alamodome security team,...