MIAMI (AP) — There's only one direction to go for the Miami Marlins, who have endured 10 consecutive losing seasons and stumbled...
Perfect games? Unassisted triple plays? They're not even as rare as what Ronald Acuna Jr. pulled off Monday night.
Aaron Nola needed three batters to settle down Saturday, and by then it was too late. The All-Star right-hander gave up two runs in the first inning and the punchless Philadelphia Phillies never recovered, losing to the Miami Marlins 2-0.
Matz and the New York Mets keep their cool Sunday, barely, overcoming three errors and escaping the NL East cellar after a one-day stay by beating the Miami Marlins 5-2. The Mets, who endured their worst June ever, won for only the second time in the past 12 games to reach the season's halfway point at 33-48.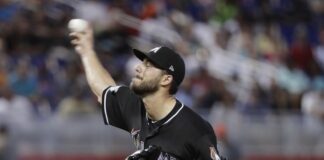 Brian Anderson hit a two-run homer off Jacob deGrom and the Miami Marlins climbed out of last place in the NL East by rallying past the New York Mets 5-2 Saturday
It was a pitcher's duel of a modern sort on Tuesday night as the Atlanta Braves shut out the Tampa Bay Rays behind a stellar performance by Sean Newcomb and the Atlanta bullpen on a night where they needed every strike.