Home
Tags
Ohio State Buckeyes
Florida News: Ohio State Buckeyes
[youtube https://www.youtube.com/watch?v=7GcRqa2WqwU&w=560&h=315] VIDEO FROM CBS HQ VIA YOUTUBE - FOR MORE HIGHLIGHTS AND FEATURES CLICK HERE
Tyler Bradley and Timothy Mallard bring you Tampa Bay Sports This Morning! What are the thoughts on Urban Meyer after his Press Conference? Will he coach again? If so where? Kelly Bryant is transferring to Mizzou, how will he perform in the SEC?
Tyler Bradley and Timothy Mallard bring you Tampa Bay Sports This Morning! Urban Meyer is reportedly stepping down following the Rose Bowl Game on January 1st. Ryan Day is reported to take over as head coach effective January 2nd. What does this mean for Ohio State in regards to recruiting?
This weekend is Championship Weekend in college football, and fans of the teams involved are planning their game days all over the Tampa Bay area.  Since Florida has a bit of everything, it stands to reason that there are a number of watch parties for fans to watch their favorite college football team shoot for those conference bragging rights.
Ohio State trustees on Wednesday began discussing the future of football coach Urban Meyer with Meyer seen entering the building where the meeting was underway.
Ohio State will rely on an outside law firm to investigate what coach Urban Meyer knew and did about domestic abuse accusations against a former assistant, a process expected to be completed within two weeks, the university said Sunday night.
Ohio State placed Meyer, one of the most successful coaches in college football history, on paid administrative leave Wednesday while it investigates claims that his wife knew about allegations of domestic violence against an assistant coach years before the staff member was fired last week.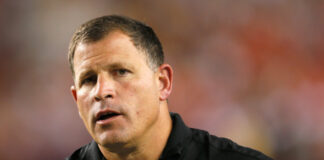 Doug Fernandez joins the show to talk about Schiano Doug Fernandez joins Rock to talk about Trey Burton and his Super Bowl performance, as well...