Home
Tags
Philadelphia Phillies
Florida News: Philadelphia Phillies
Aaron Nola needed three batters to settle down Saturday, and by then it was too late. The All-Star right-hander gave up two runs in the first inning and the punchless Philadelphia Phillies never recovered, losing to the Miami Marlins 2-0.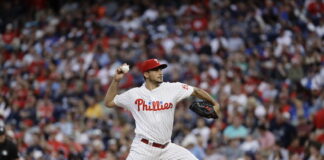 Zach Eflin continued to shine for Philadelphia with just four hits allowed over seven shutout innings, and Hoskins hit a three-run homer to help the Phillies beat the New York Yankees 3-0 on Wednesday night.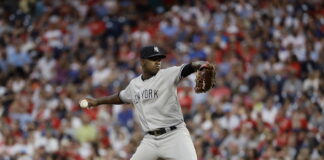 Luis Severino is making a strong case to start the All-Star Game for the American League. Severino became the majors' first 12-game winner, Aaron Hicks and Didi Gregorius homered and the New York Yankees beat the Philadelphia Phillies 6-0 Tuesday night.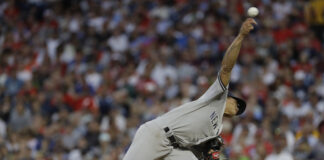 Loaisiga took a no-hitter into the sixth inning, Aaron Judge ripped his 20th homer and the New York Yankees snapped a three-game skid with a 4-2 victory over the Philadelphia Phillies on Monday night.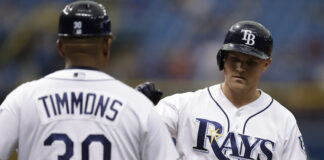 The owners of the Tampa Bay Rays think they will have a much better understanding of the franchise's future sometime in the foreseeable future, perhaps as early as the end of the year or the beginning of spring training in February 2019.
What was new, state of the art and the envy of other Major League Baseball owners in 2004, the Philadelphia Phillies Clearwater stadium and spring training complex is old and antiquated in 2018.
The Philadelphia Phillies scored six runs in the second en route to a 9-4 victory over the Tampa Bay Rays Saturday night at Tropicana Field.
Jorge Alfaro hit a go-ahead single with two outs in the ninth inning and the Phillies won their fourth straight overall by beating the Tampa Bay Rays 2-1 on Friday night.
Baseball officials were lost in the aftermath. https://www.youtube.com/watch?v=vgnZwgPnKzA&feature=youtu.be Fifty years ago today, the Reverend Dr. Martin Luther King Jr. was gunned down in Memphis, Tennessee. The...
https://embed.air.tv/v1/embed/8IlNjYlVQTKkKC6taVdUpw/oTBxQb-0S56gkw7m9smoBQ?video_sizing=fixed&video_width=560&video_height=315&show_player_title=false&show_div_title=false&show_div_description=false Gray pitched two scoreless innings on Monday night in Tampa Sonny Gray was on the mound Monday night in Tampa to bank some important Spring...