London and Mexico City are old stops. https://www.youtube.com/watch?v=eHrk1dEbXqI&t=6s The National Football League has big plans to get its product, games, into China's marketplace. But the league...
Just a few days after International Olympic Committee President Thomas Bach declared that the press is the enemy of the IOC and is the cause of cities pulling out of the bidding for the IOC's crown jewel events, Indonesia's President announced that his country wants the 2032 Summer Games.
For Gary Bettman, Yuans may be the answer. https://www.youtube.com/watch?v=UPmVGcja6Ns The 2018 South Korea Winter Olympics is less than a month away and the hockey competition will go...
The NBA is playing games and looking for yuans in China https://www.youtube.com/watch?v=agtuwAmBOvc&t=12s The National Basketball Association finishes the NBA Global Games China 2017 this weekend with...
The NHL in China. The National Hockey League's first adventure in China begins with a pair of pre-season games in Shanghai and Beijing featuring the...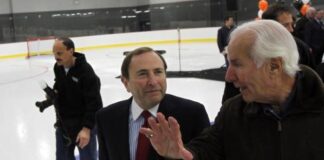 NHL Players won't appear in South Korea 2018 Winter Games And so, it seems that National Hockey League Commissioner Gary Bettman, and the 31 team...