Home
Tags
Stanley Cup Playoffs
Florida News: Stanley Cup Playoffs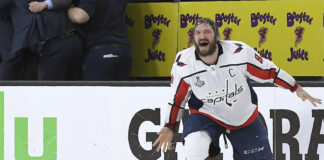 Alex Ovechkin scored midway through the game and Lars Eller had a go-ahead goal with 6:37 left in the third period, lifting the Capitals to a 4-3 victory over the Vegas Golden Knights in Game 5 on Thursday night.
Busy weekend, baseball gets lost. https://www.youtube.com/watch?v=BZZM9im26hA There is a little bit of everything for every sports fan on Memorial Day, NBA playoffs, NHL playoffs, soccer, golf,...
Just 19 seconds into the game, the Tampa Bay Lightning scored to take the lead. With just 11 seconds remaining in the game, Andrei Vasilevskiy made a ranging save of a John Carlson shot that could have tied the game. Talk about end-to-end hockey.
The Vegas Golden Knights were a 500-to-1 long shot to win the Stanley Cup before the NHL season began in October. Their surprisingly successful inaugural season is still rolling along, and they're one win from a berth to the Stanley Cup final.
Tonight the Tampa Bay Lighting will come to Washington down two games to none in hopes of getting back on track. Meanwhile, The Capital One Center will "Rocking the Red," like never before in hopes of inspiring the home team to close things out this week without returning to the Bay Area.
For the vast majority of the first two periods Sunday night, the Tampa Bay Lightning looked like they'd made some clear adjustments to the Washington Capitals based on their game one loss. In the final 1:02 of the second period, it started to unravel.
Breaking down the Eastern Conference Final matchup between the Tampa Bay Lightning and the Washington Capitals.
Sunday afternoon's 3-1 victory in game 5 of the Eastern Conference Semifinal sent the Lightning to the next round on a high note. Sunday's game also proved to be a demonstration of everything the Lightning did to defeat the Boston Bruins.
Brad Marchand is in the hockey news again, this time for licking Ryan Callahan. A story this bizarre requires a question and answer session.
At 2-1, the series is still very much up in the air and can change shape in a hurry. In honor of Game Four, our preview includes four different ways one can look at the Bolts and Bruins.