Florida News: Stanley Cup
Note-This story was originally published on Inside Hockey and is being republished with permission. St. Louis, MO- The...
Note:This story was originally published on Inside Hockey and has been republished here with permission. St. Louis, MO- In...
It's America's 242th birthday and there is a big question about the Major League Baseball industry. Why has in park attendance dropped to its lowest level in 15 years?
As the finals seconds of Game 5 of the Stanley Cup Finals melted away, the scoreboard at the T-Mobile Arena read Washington 4 Las Vegas 3 and two things were certain. The Capitals had just won their first Stanley Cup Championship and Alex Ovechkin, the greatest goal scorer of his generation and one of the best of all time could finally silence a small portion, of the hockey world who still refused to believe how good he really is.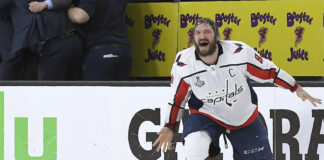 Alex Ovechkin scored midway through the game and Lars Eller had a go-ahead goal with 6:37 left in the third period, lifting the Capitals to a 4-3 victory over the Vegas Golden Knights in Game 5 on Thursday night.
Celebrating sports championships at the White House is generally a jovial time with some jokes and pats on the back in the how great you are vein.  It is an old tradition which started with President Andrew Johnson in 1865 who welcomed baseball's Brooklyn Atlantics and the Washington Nationals to 1600 Pennsylvania Avenue. 
Goodbye Canadian airlift in the future? https://www.youtube.com/watch?v=62vzyW4wLlM There is a notion that the Canadian Football League would be better off with a middle of May to...
Baseball has lost the top spot in America's favorite sports list. It's America's 241th birthday and there is no better way to celebrate the Fourth...