Florida News: Tampa Bay Bucs
TAMPA, Fla. (AP) — The Tampa Bay Buccaneers are counting on Patrick Murray to solve their kicking woes. Murray was signed Monday, replacing struggling Nick...
MIAMI (AP) — For the Miami Dolphins and Tampa Bay Buccaneers, the season might begin sooner than expected, thanks to Hurricane Irma.
Can you smell that? Football is truly back. This weekend college football kicks off with some intense matchups and the NFL regular season is right around the corner. Tonight the Tampa Bay Buccaneers play their last preseason game of the year.
For the third year in a row, the Cleveland Browns (3-0) and Tampa Bay Buccaneers (1-2) squared off against each other in the third game of the preseason. The Browns won the game 13-9 and no one will send a copy of the game to the Pro Football Hall of Fame as something great to watch, but the Bucs were pleased with how things went last night at Raymond James Stadium.
After a disappointing performance in the Tampa Bay Buccaneers first preseason game of the year, Roberto Aguayo has been released from the team.
The NFL preseason got here fast but for the Tampa Bay Buccaneers that isn't the only thing going fast.
The tight end group is stacked with talent for the Tampa Bay Buccaneers going into the 2017 season.
Tampa Bay Buccaneers wide receiver Mike Evans caught up with Sports Talk Florida at training camp.
https://embed.air.tv/v1/embed/ckelE3KXTlafNE6V8jtHug/oTBxQb-0S56gkw7m9smoBQ?video_sizing=fill-width&show_player_title=false&show_div_title=false&show_div_description=false&autoplay=true While the Tampa Bay Buccaneers have filled their offense with a ton of talent, their defense isn't lacking either. Sports Talk Florida caught up with...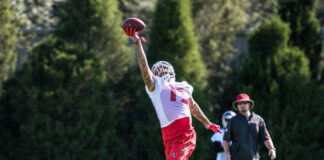 The Tampa Bay Buccaneers head into the 2017-18 season with a very talented team but mainly a stacked offense.