Home
Tags
Tampa Bay Rowdies
Florida News: Tampa Bay Rowdies
The owners of Major League Baseball's St. Petersburg-based Tampa Bay Rays have purchased the St. Petersburg-based Tampa Bay Rowdies of the United Soccer League.
Tyler Bradley and Timothy Mallard bring you Tampa Bay Sports This Morning! The Show that covers all of the local sports scenes in Tampa Bay. After the NL Wild Card Game between the Rockies and the Cubs Joe Madden is out of the playoffs. What do the people of Tampa have to say about it?
On today's episode, Rock is talking about the Rays and their recent purchase of the Tampa Bay Rowdies.  The big question is "why would the Rays do this?"  Rock explores all of the avenues the Rays could take in terms of this deal and what it means in regards to their new stadium and stadium situation with Ybor City.
Our friends at Unation have once again provided us a list of weekend events for the athletically-minded Floridian.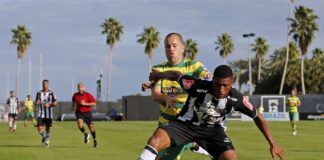 After two days without sports, the All Star Break is about to come to an end, and that means there will be plenty of summer activities for the sports-minded person in Tampa Bay.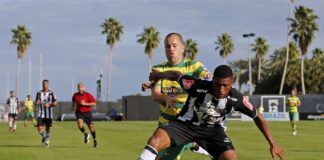 Joe Cole has been appointed assistant coach of the Tampa Bay Rowdies of the United Soccer League while continuing to play for the second-tier club.
The Tampa Bay Rowdies first season as part of the United Soccer League came to a sad end last night at Al Lang Field as they lost in a painful game to the defending league champion New York Red Bulls II by a score of 2-1 in extra time. The game was a big battle in the Eastern Conference Semifinals of the USL Cup Playoffs.
The Tampa Bay Rowdies started their march to prove they are an elite soccer franchise worthy of playing in any league. In their first season as a member of the USL, the Rowdies delighted their boisterous crowd with a dominating performance rolling over FC Cincinnati 3-0 at Al Lang Field and they are 1-0 in USL Cup Playoffs, that features a one-and-done-format.
The Tampa Bay Rowdies earned the No. 3 seed after Saturday night's matches. They finished in a three-way battle for the top spot in the Eastern Conference behind Louisville and Charleston.  
The Tampa Bay Rowdies march to the USL Cup Playoffs in their first year in the league is off to a great start. Last night, in the regular season finale, Tampa Bay went on the road 90 miles away on Interstate 4 Tampa Bay and vanquished the Orlando City B squad 2-0 to clinch a first-round home game.