On today's show, Rock discusses the New York Yankees Wild Card win, College Football, and the biggest fight in UFC history Conor McGregor vs. Khabib Nurmagomedov. Rock asks the question, "Why should you watch this fight?" Rock also discusses rebuilding the Miami Marlins and previews the Dolphins at Bengals match up this weekend.
Khabib Nurmagomedov is and always will be a grappler. Unfortunately for him, every round starts on the feet. He will need to close the distance against longer McGregor who hold a four-inch reach advantage over Nurmagomedov.
On today's episode, Rock is talking all things football to get your weekend started!  The Bucs, Jags, and Dolphins are a combined 6-0 on the season, can they make it 9-0 after week three?
Former UFC light heavyweight champion Jon Jones has been handed a 15-month suspension by the United States Anti-Doping Agency and will be able to return to the octagon by October 28th.
UFC 230 has it all. It's at Madison Square Garden. The co-main event features the long-awaited return of Nate Diaz who is fighting the soaring Dustin Poirier. Six of the top ten middleweights are also on the card. Yep, the card pretty much has everything. That is...except for the main event.
UFC Hall of Famers Chuck Liddell and Tito Ortiz will fight for a third time under a new MMA organization headed by former boxing star Oscar De La Hoya. The fight will take place November 24th at The Forum in Inglewood, CA.
October 6th is a night MMA fans around the world have been waiting for. Not only will it mark the return of the sport's biggest superstar but it also is shaping up to be the biggest fight in the UFC's history.
Two of the biggest stars in the UFC are both scheduled to fight in the next few months, it just won't be against one another, or on the same night.
Major League Baseball, the National Hockey League, Major League Soccer and the National Basketball Association do business in Canada and now the leagues have a new problem facing them.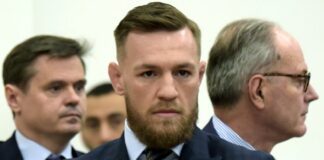 Conor McGregor spent more time in a courtroom today than he spent inside the octagon in the past year. McGregor's court hearing was like many of his past fights: quick.