Florida News: Urban Meyer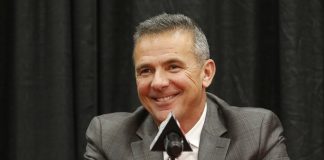 JACKSONVILLE, Fla. (AP) — Urban Meyer has won everywhere he's coached. Small colleges. Big-time programs. He's been a difference-maker at each stop...
JACKSONVILLE, Fla. (AP) — A person familiar with the search says Urban Meyer and the Jacksonville Jaguars are "working toward finalizing" a...
Meyer announced Dec. 5 he would step down after the Jan. 1 game and hand the keys to the program to offensive coordinator Ryan Day
On today's show, Rock talks the retirement of Ohio State football coach Urban Meyer. Did he really retire because of health reasons? Will he coach football again? What is his legacy? Plus, Rock talks the college football playoff, bowl games, and much more!
Tyler Bradley and Timothy Mallard bring you Tampa Bay Sports This Morning! Urban Meyer is reportedly stepping down following the Rose Bowl Game on January 1st. Ryan Day is reported to take over as head coach effective January 2nd. What does this mean for Ohio State in regards to recruiting?
It has been a long season for the Ohio State Buckeyes and Urban Meyer, but they still could get into the College Football Playoff with a win and some help.  First they need to take care of business in the Big Ten Championship against Northwestern, which can be heard on our own Sports Talk 1040 The Team Tampa Bay on Saturday night. 
Urban Meyer will be back on the sidelines for Ohio State University after Meyer, one of Ohio's highest paid public employees, spent three weeks suspended from work.
Ohio State trustees on Wednesday began discussing the future of football coach Urban Meyer with Meyer seen entering the building where the meeting was underway.
This is the time of year that the followers of college football are anxiously reading about or listening to talk radio or watching TV hoping to find out about their favorite team or which players are Heisman hopefuls or which school is unstoppable.
Ohio State will rely on an outside law firm to investigate what coach Urban Meyer knew and did about domestic abuse accusations against a former assistant, a process expected to be completed within two weeks, the university said Sunday night.