Florida News: Victor Hedman
Pittsburgh Penguins right wing Patric Hornqvist (72) tries to put a rebound past Tampa Bay Lightning goaltender Andrei Vasilevskiy (88) during...
In a game featuring the NHL's top and bottom teams the Lightning defeated Ottawa at Amalie Arena on Saturday evening to record their 50th victory of the season.
New York, NY- Two trades will link the Tampa Bay Lightning and the New York Rangers of the current decade for years to come....
Victor Hedman scored the lone goal in a shootout and Andrei Vasilevskiy had 36 saves as Tampa Bay defeated the Islanders 1-0.
The Tampa Bay Lightning enter the NHL All-Star Break with a whopping 76 points after defeating the San Jose Sharks 6-3 Saturday Night.
The Toronto Maple Leafs ended the Tamap Bay Lightning's nine-game home winning streak defeating them 4-2 Thursday night at Amailie Arena.
The Tampa Bay Lightning pressed hard in the third period but were unable to notch the game tying goal falling to the Nashville Predators 3-2.
The Ottawa Senators scored four unanswered goals in the third period to defeat the Tampa Bay Lightning 6-4 Saturday night at Amailie Arena.
The Tampa Bay Lightning improve to 2-1-0 on the season with a dominating 8-2 win over the Columbus Blue Jackets.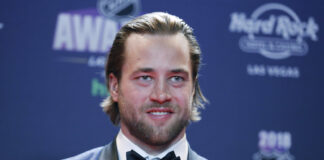 New Jersey's Taylor Hall and the hometown Vegas Golden Knights went home with major honors from the NHL Awards. Hall won the Hart Trophy as the NHL's most valuable player Wednesday night in the hockey world's annual postseason awards show.