Home
Tags
WASHINGTON NATIONALS
Florida News: WASHINGTON NATIONALS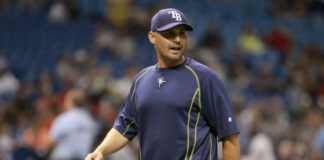 The Tampa Bay Rays have become first team to get back over .500 before end of May after being 9 or more games under since the 2009 Padres. Now the schedule turns to June, and the schedule makers didn't make it easy for this team to avoid the June swoon.
Harper's Homer Helps Nationals Sweep The Marlins. Washington keeps rolling over Miami and moves closer to first place.
Juan Soto, the youngest player in the majors at 19, has hit a three-run homer in his first career start for the Washington Nationals. A day after striking out as a pinch-hitter in his big league debut, Soto connected in the second inning against San Diego on Monday night.
Did you hear that the Miami Marlins and the St. Louis Cardinals baseball teams owners are unhappy with the shared spring training facility in Jupiter, Florida? But the two team owners have an idea.
It's opening day (yawn) https://www.youtube.com/watch?v=s9jC_vvzze0 In a distant time, not so long ago, the mere mention of Opening Day was all that was needed. It was...
Dave Martinez, former Rays coach now to manage the Nationals and will likely face his mentor Joe Maddon in the playoffs.
Almost five hours after it began the Chicago Cubs had beaten the Washington Nationals 9-8 in front of a standing room only crowd of 42,000 fans on a cool, wet night in Washington. It was a strange game that was hard for both teams to explain but in the end, Chicago will fly to Los Angeles to face the Dodgers in the National League Championship Series.
Moments after his go-ahead hit, Anthony Rizzo walked across the infield at frenzied Wrigley Field and shouted "Respect me! Respect me!"
Cubs manager Joe Maddon added some off-day intrigue to the National League Division Series by hinting he might play musical chairs with his lineup against Washington right-hander Max Scherzer for their pivotal Game 3.
Things were looking bleak for Bryce Harper, Ryan Zimmerman and the rest of the Washington Nationals. They had accumulated one run and four hits through the first 16 innings of their NL Division Series against the Chicago Cubs