States can't wait to open sports books.
Legalized sports betting is coming to New Jersey very soon and more than likely Delaware very quickly. The Supreme Court of the United States has struck down the 1992 Professional and Amateur Sports Protection Act that limited betting on professional sports and college sports to just four states. Nevada has sportsbooks. Delaware has very limited betting on the NFL. Montana and Oregon have limited sports betting. New Jersey led by former Governor Chris Christie pushed to change the 1992 law. New Jersey passed legislation in 2011 that legalized sports gambling in the state. The National Football League immediately sued and a judge found that the New Jersey proposal ran afoul of the 1992 federal ban. Delaware opened casinos and by 2009 decided to open sports betting parlors in the state's casinos. The NFL sued to stop it and won. Delaware does have NFL Sunday schedule parlay betting like it did in 1976.
It is difficult to gauge how many states will suddenly open up sports books but New York, Iowa and other state elected officials have been laying the groundwork for sports betting as have sports betting parlor operators such as William Hill US. William Hill has sports betting parlors in England. Major League Baseball Commissioner Rob Manfred and National Basketball Association Commissioner Adam Silver have known for some time that legalized sports gambling was coming and in fact Silver has embraced the concept because it might expand the NBA's fan base. The NBA could also demand a slice of the action. Those details have to be worked out. The National Football League has approved the shift of the Oakland Raiders franchise to Las Vegas and is actively trying to expand its presence in London where betting companies like William Hill operate. The US has joined the rest of the world in sports betting.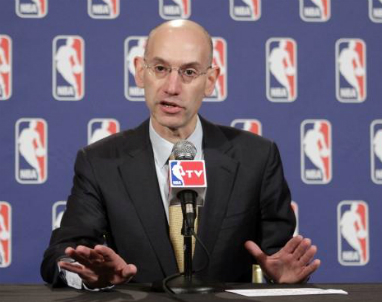 Adam Silver is ready to embrace gambling on basketball.