Power 5 Conferences Ranked Very Closely In 2016
This is technically an incomplete assignment as the bowl games will be added later, but how did the perception compare to the reality which of the Power 5 conferences was best in 2016?
First, I should note, this is more book-keeping than presenting a conclusion. The bowl games are much the same. No one in their right mind would argue that Washington beating Rutgers or Clemson beating South Carolina means one conference is better than the other because those games were mismatches in 2016. The same can be said for bowl games that often don't match up 3rd best team vs. 3rd best team, instead matching teams up based on financial reasons.
It is interesting to follow how leagues fair against each other however.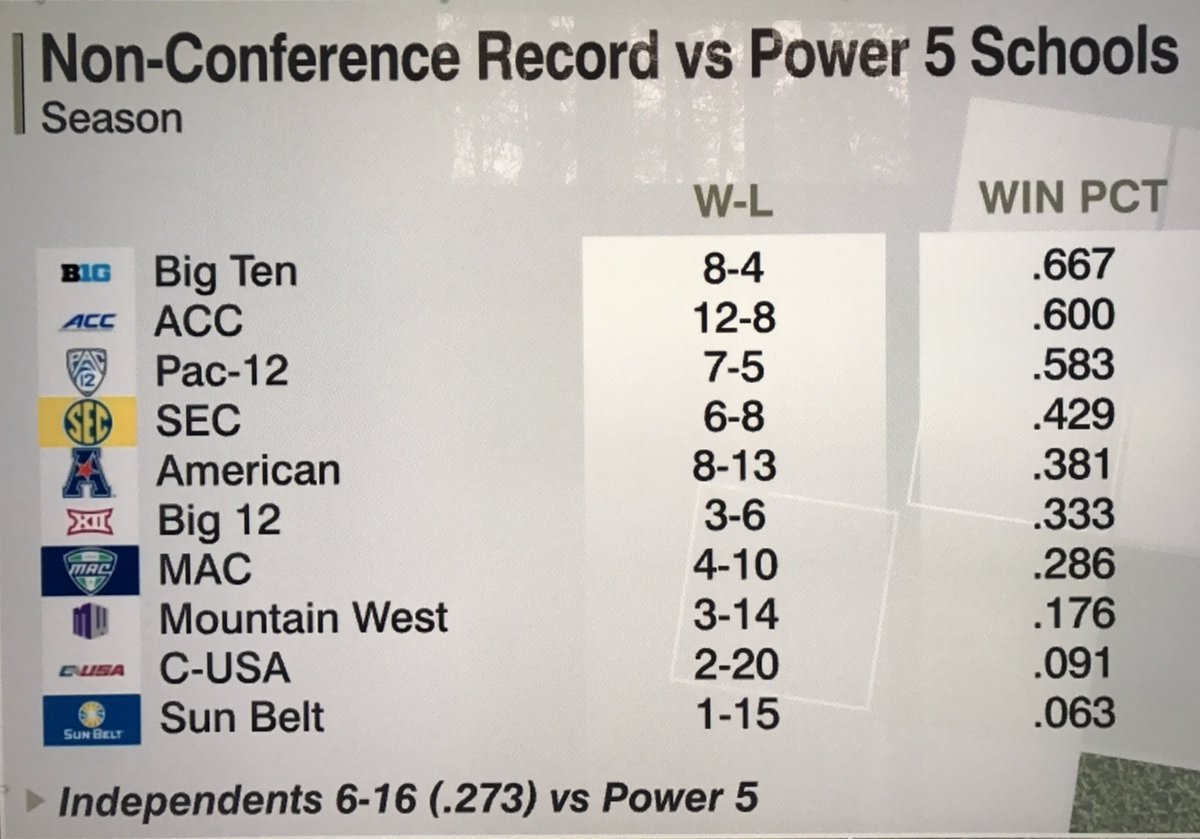 These ESPN rankings do factor in Notre Dame, but not BYU. It's one way to measure a conference's strength, confirming what we thought we knew in that the SEC and Big 12 were having down seasons, and the B1G had a great season. The Pac-12 actually improves to 9-6, a virtual tie for first with the ACC and B1G if we include BYU. The American, while not the top, proved to be the toughest of the G5 leagues.
Another way to look at it would be the current top 25.
Pac-12- 5 schools (4, 9, 10, 18, 19)
ACC- 5 schools (2, 11, 13, 22, 23)
SEC- 5 schools (1, 14, 17, 20, 21)
B1G- 4 schools (3, 5, 6, 8)
Big 12- 3 schools (7, 12, 16)
Again, this is the committee's list, not mine. I do think it's important to note a couple of things though.
First, the B1G had a drop-off perceptually after their 4 NY6 bowl teams as the rankings show. So they were top heavy, but not necessarily the best with depth. The ACC (71) and SEC (73) are vitually identical and Pac-12 (60) had a slight edge on both with the (#) representing total spots in the poll with a lower number being better. The Big 12 does live up to it's perception again though as the weakest P5 league in 2016.
Second, this is just a top 25 poll. Clearly there are schools equal to, if not better than handful of their top 25. Consider the ACC (UNC, Miami, GT), the SEC (Texas A&M), B1G (Nebraska, Iowa, Minnesota), Big 12 (K-State), and Pac-12 (Wazzu) all had teams that won 8 games or more not ranked. So it's hardly scientific.
Another consideration would be total number of bowl teams which feeds off the rankings and extends the list. An example would be in the ACC where Pitt is ranked, but finished with the same record and was plastered at Miami. There are several examples. So speaking on depth, the bowl totals are:
SEC- 12* (Miss State qualified at 5-7)
ACC- 11
B1G- 10
Big 12- 6
Pac-12- 6
The SEC edged out the other pair of 14-team leagues, while the Big 12 got 60% of it's teams to bowl games. The Pac-12 only had half of their teams bowl eligible in 2016, which is a knock on their depth. I think their bottom-feeders are better than any other conference though for what it's worth, but their middle and bottom ruined each other this season.
Commentary on each league:
The SEC had the best team in the country, and several good, albeit inconsistent teams that followed. No other contender(s) emerged from that group giving it the beefiest middle of any league, but the weakest top (outside of Bama).
The ACC closely resembled the SEC with a top team, and several very solid teams, and they were excellent out of conference. They went 6-3 against the SEC this year and 15-12 against them the last 3 seasons.
The B1G provided the most power up top, and in the middle they were very solid. They may have had the worst bottom of any league though.
The Pac-12 had some teams surprisingly bottom out and carried some unusual suspects as contenders. Having Stanford and USC rally late season though gave the conference decent balance at the top, but it lacked much of a middle.
The Big 12's best team in 2016 got pounded twice out of conference, pretty much summing things up. The bottom was bad, the middle was mediocre, and the top lacked anything resembling a contender.
POWER 5 RANKINGS
Big Ten
Pac-12
ACC
SEC
Big 12
I feel like this is the most even we've seen college football in a long time. Rankings 1-4 are almost a total wash. The only real separation we saw in 2016 was the Big 12 as the worst league.
Bowl season provides us with 20 games of P5 vs. P5 matchups. I might have a different lean after those games are played, but the idea that we have some national balance appears locked in…at least for a year.