Lane Kiffin is ready if Taggart heads to Oregon
South Florida head coach Willie Taggart is one of the hottest candidates for openings at Power 5 Conferences. He met in Dallas with the University of Oregon to fill their head coaching opening and his is considered as a real contender. If Taggart leaves Alabama offensive coordinator Lane Kiffin, will be the top target to be the Bulls head coach. Kiffin has plenty of Tampa ties, which will get to a bit later.
Must read: Taggart to Oregon is possible. 
While Taggart was talking to Oregon, Kiffin was busy yesterday running the Tide offense as they beat the Florida Gators 54-16, towin yet another SEC Championship Game at the Georgia Dome on Saturday. Just another day at the office for Kiffin.
Must read: The Gators come close to coming close.
He has a solid resume when it comes to coaching, he spent two seasons as head coach of the Oakland Raiders before returning to college to coach Tennessee and USC, is 35-21 as a collegiate head coach, going 28-15 in four seasons with the Trojans.
He has been fired from all three places but he remains someone respected for his talents as a great offensive mind as well as super recruiter.
Kiffin, in his third season as Alabama's offensive coordinator, but his ties to Tampa are very deep and it would be a homecoming. His father Monte Kiffin was the longtime defensive coordinator of the Tampa Bay Buccaneers.
He is 41 years old and his father-in-law is former Tampa Robinson star quarterback John Reaves, who is Bay Area legend first as a record setting quarterback for the Florida Gators and then with the USFL Tampa Bay Bandits.
This past week as Alabama was getting ready to face Florida in the SEC Championship Game, the Tide head coach Nick Saban was asked by the media in Atlanta about Kiffin returning to being a head coach in college.
"Absolutely," Saban said at Friday's SEC Championship pregame press conference. "I think he's proven, when he was a head coach (at USC and Tennessee), he had a reasonably good amount of success, much more than I think he gets credit for.
"He's done a phenomenal job in the three years that he's been with us relative to taking the players that we had and actually molding a system, especially for the quarterback to be successful in. I think those are signs of tremendous maturity as a coach who is not just committed to a system, but is committed to doing the things that he has to do to help players be successful."
In a follow up question Saban was asked if he spoke to Kiffin about his return to being a head coach.
"We've had conversations about it," Saban said. "He wants to be a head coach. I want him to be a head coach. I want to help him to get a head-coaching job. The rest of it, we have not discussed, and I don't think it's the right time. Maybe the right time will be sometime in the next couple weeks, but right now we're focusing on him trying to get a head-coaching job."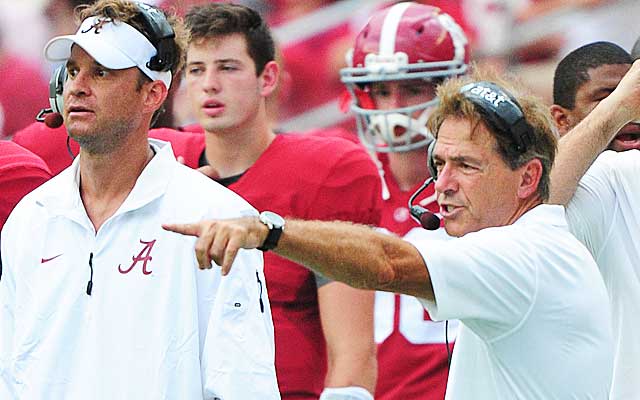 Kiffin is known as an outstanding recruiter and he has done a great job of snagging some of the key players out of the Sunshine State. First when he was at Tennessee and more recently in his present job at Alabama.
He's worked with three different starting quarterbacks during his tenure, including freshman Jalen Hurts this season and guided Alabama's transition into a more up tempo style offense.
Kiffin received a new deal in September paying him $1.4 million this year, extending through February 2017.
Quotes used in this story came from UPI.