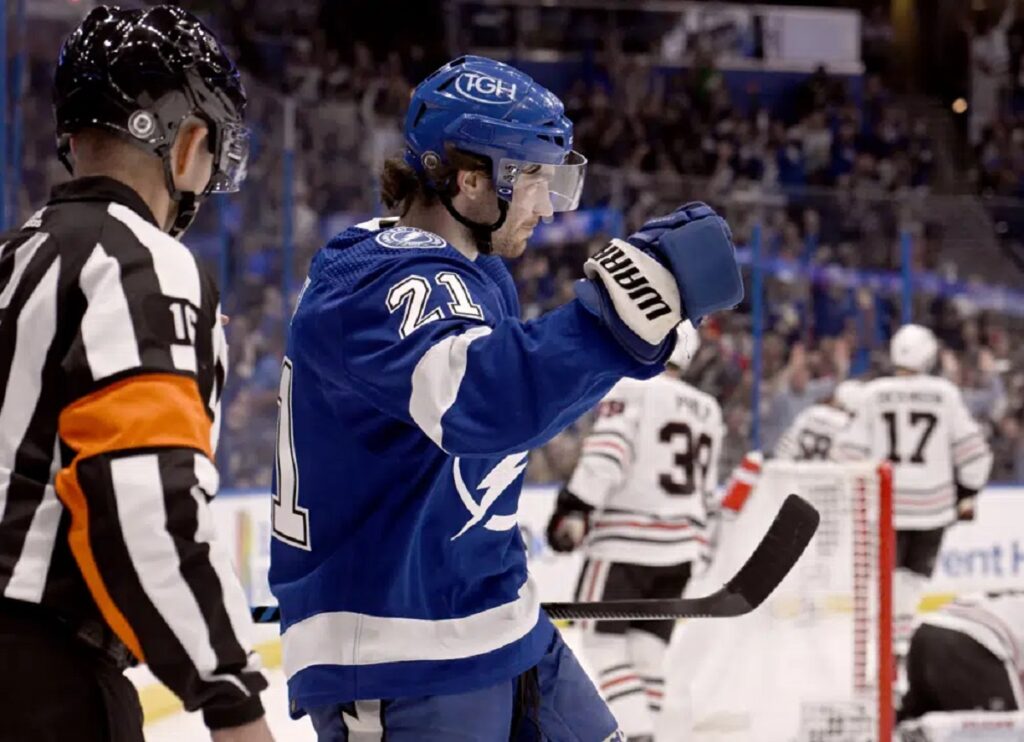 TAMPA, Fla. (AP) — Brayden Point scored his second goal of the game with a minute left and the Tampa Bay Lightning beat the Chicago Blackhawks 3-1 on Saturday night after losing captain Steven Stamkos to a leg injury.
Point broke a tie with a one-timer from between the circles that beat Petr Mrazek. He has a career-high 43 goals. "He's been the straw that stirred the drink many nights," coach Jon Cooper said about Point. "He and Kuch (Nikita Kucherov) have such chemistry and they're a dynamic group together. Just look at the play they made at the end on the winning goal. You put Point in that spot and more often than not he's going to finish." Brandon Hagel, acquired from Chicago in a trade on March 18, 2022, hit the empty net with two seconds remaining.
The Lightning lost Stamkos, their career leader in goals and points, late in the first period with a left leg injury after he got tangled up with Chicago forward Joey Anderson and both players fell to the ice. Stamkos skated off the ice, holding his leg, and did not return. "I think he's going to be OK," Cooper said. "We just kept him out for precaution. We'll check him out tomorrow, but we're hopeful he will be OK." It was the second gut-wrenching loss in as many nights for the Blackhawks, who were beaten 4-3 in overtime by Florida on Friday night.
"It's heartbreaking because I really felt our guys put it all out there tonight," Chicago coach Luke Richardson said. "I thought we controlled the pace of the game. I thought we had some really good chances in the third after we scored; we got some momentum there. But they're a good team."
Point opened the scoring at 6:21 of the second period, picking up his own rebound and lifting it past Mrazek. "Guys give it to me in good spots, that's definitely for sure," Point said. "I'm trying to shoot and sometimes it's a numbers game. The more you shoot, the better chance you have to score." Taylor Raddysh, acquired by Chicago in the trade for Hagel, tied it at 5:23 of the third period. Cole Guttman chased down the rebound of Tyler Johnson's shot behind the net and centered for Raddysh, who snapped a shot past Brian Elliott for his career-high 17th goal.
All three players had connections to the Lightning. Raddysh and Johnson played for Tampa Bay; Guttman, a sixth-round pick in the 2017 draft by the Lightning, signed with Chicago last summer as a free agent. "The guys were pumped to play here tonight," Richardson said. "I think they all played very well." Elliott finished with 23 saves, helping the Lightning beat the Blackhawks for the eighth straight time. Mrazek made 34 saves for the Blackhawks, the NHL's lowest-scoring team.
"Overall, I thought our game was pretty good," Johnson said. "I thought we had a lot of chances, and Mrazek was unbelievable and kept us in it."
Neither team generated much offense in the scoreless first period. The best chance came in the final minute, when Mrazek stopped Tampa Bay's Alex Killorn on a 2-on-1 short-handed rush. "We got better as that game went on," Cooper said. "We were pretty sleepy in the first period. Because of that we weren't executing, but as the game went on we got better. The big boys came in, made some plays at the end and we pulled it out." Victor Hedman, Tampa Bay's top defenseman, returned after missing two games with an upper-body injury. DOMINATING
The Lightning are 19-1-1 in their past 21 games against Chicago, and 14-1-0 in the last 15 regular-season games at Amalie Arena since the start of the 2009-10 season. BACK-TO-BACK STRUGGLES The Blackhawks fell to 1-6-1 in their past eight games overall, and they dropped to 1-10-1 in the second of back-to-back games. UP NEXT
Blackhawks: Host Boston on Tuesday night.
Lightning: Host Winnipeg on Sunday night ___ AP NHL: https://apnews.com/hub/nhl and https://twitter.com/AP_Sports