Woodley Scores a Majority Draw to Retain Belt
UFC 205 had a very successful night for their first event in New York at Madison Square Garden.
Conor McGregor made history Saturday night at UFC 205.  McGregor dominated the now former champ Eddie Alvarez for the whole fight before referee John McCarthy stepped in to stop the fight.  McGregor did an excellent job keeping his distance and did outstanding work countering with punches when Alvarez tried to get on the inside.  McGregor knocked Alvarez down three times in the first round and never looked threatened by Alvarez.
After the fight was over and the new belt was put around McGregor's waist, UFC Commentator Joe Rogan went in to interview him and asked him how hit felt to be the first fighter in UFC history to hold a belt from two different weight classes simultaneously and McGregor had a question for the UFC.
"Where the f*** is my second belt?", asks McGregor.  "I've already got this one (he points to the one around his waste).  Where's the second one at?"
Eventually, an UFC employee went backstage and got another belt (we later found out it was Tyron Woodley's belt he let them borrow for show) and McGregor was able to walk around the octagon with a belt draped over each shoulder.
Conor McGregor is seen here with both the Featherweight Championship belt and the Lightweight Championship belt around his shoulders, becoming the first fighter in UFC history to hold a belt in two different weight classes simultaneously.
There was a lot of bad blood between the fighters and at the press conference Thursday, Alvarez demanded to McGregor that he apologized for speaking about his wife and children, yet McGregor refused.  Most of the time after a fight, the fighters will made mends with each other after sharing the octagon with one another.  Well, McGregor isn't most fighters.
"I just want to say from the bottom of me heart, I'd like to take this chance to apologize…to absolutely nobody!  The double champ does what the f*** he wants!", screamed McGregor as he got the second belt put around his shoulder.
It's too soon to know if McGregor stays at 155 pounds to defend his belt there or go back down to 145 pounds to defend that belt.  There is even talk about him going to 170 pounds to challenge for that belt.  Either way, McGregor solidified himself Saturday night as one of the greatest fighters to ever step into the cage.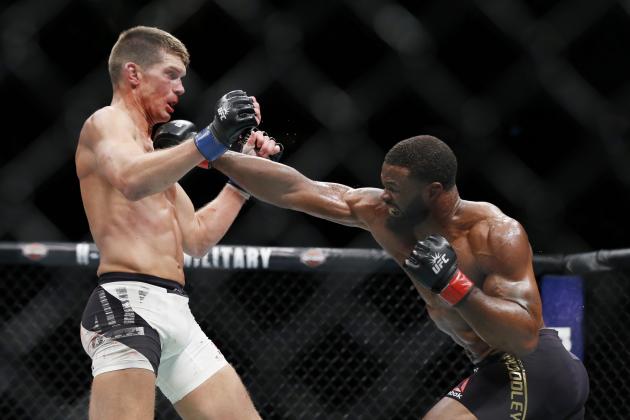 Stephen Thompson (left) tries to avoid a punch by Tyron Woodley (right) Saturday night in New York City at UFC 205.
Tyron "The Chosen One" Woodley and Stephen "Wonderboy" Thompson had a very close fight Saturday night.  So close in fact, that two of the judges scored it a draw and the third judge gave the slight advantage to Woodley.  The fight was originally called a majority decision victory for Woodley, but later changed to a majority draw.  Either way, the champ kept his belt.
Woodley clearly won the first round, but Wonderboy came back in the second round.  The third round was a close one, but Wonderboy looked to edge it out.  The fourth round was the most exciting round of the fight.  Woodley nearly finished Wonderboy due to strikes and when that didn't work, he nearly caught him in a choke.   Wonderboy somehow survived the round and came back strong to win fifth round.
The tough question now is will there be a rematch between the two or will the UFC give a shot to Demian Maia who has won six straight fights.  UFC President Dana White hinted after the fight that a rematch between Woodley and Wonderboy is what makes the most sense to him, but nothing is final yet.
Joanna Jedrzejczyk defended her Strawweight belt against Karolina Kowalkiewicz Saturday night with a five round decision win.
Joanna Jedrzejczyk picked apart contender Karolina Kowalkiewicz over the course of five rounds. Jedrzejczyk won four of the rounds, mainly by landing her jab and pressing Kowalkiewicz against the cage using the clinch.  Kowalkiewicz did appear to have the champ hurt in the fourth round, but Jedrzejczyk was able to recover.  Tough to say who the champ will fight next, with no real contenders in plain sight.
Chris Weidman sits up after being hit with a brutal knee and knocked out in the third round by Yoel Romero.
Yoel Romero took on his toughest challenge yet when fighting against former Middleweight Champion Chris Weidman at UFC 205 but was able to come away with the knockout.  The first two rounds were close, with neither fighter landing any significant shots.  At the beginning of the third round, Weidman dove at Romero's legs for the takedown, in which Romero countered with a knee to Weidman's head.  This forced Weidman to the mat where he covered up as Romero landed a few more punches before the ref stopped the fight.
Weidman sat up shortly after, with blood pouring from the side of his head.  Weidman looked devastated, not just because he lost, but because he lost in his home state of New York.  Weidman was the most active UFC fighter trying to get MMA legalized in New York the past few years and a big part in the event taking place Saturday night.
As for Romero, it looks like he will challenge UFC Middleweight Champion Michael "The Count" Bisping for the belt in his next fight.  Bisping was at MSG doing commentary work for Fox Sports 1 and Romero looked up to his booth and requested a title shot.  Bisping replied with a smile and gave Romero both his middle fingers.
UFC 205 and the promotion's first event in New York was huge success.  There were 20,427 people there at Madison Square Garden Saturday night to watch the historic event.  UFC President Dana White was very pleased and it appears that New York will see many UFC events throughout each year.
Side Notes
The live gate for the event at MSG was $17.7 million, which broke the UFC's previous live gate record and is also the new live gate record for Madison Square Garden.  The previous record for the UFC was UFC 129 in April of 2011 with just over $12 million.
After losing to Raquel Pennington via unanimous decision, Miesha Tate announced her retirement from the sport.
Tyron Woodley and Stephen Thompson both received Fight of the Night which includes a $50,000 bonus to each fighter.
Conor McGregor and Yoel Romero both won Performance of the Night which also includes a $50,000 bonus to each fighter.