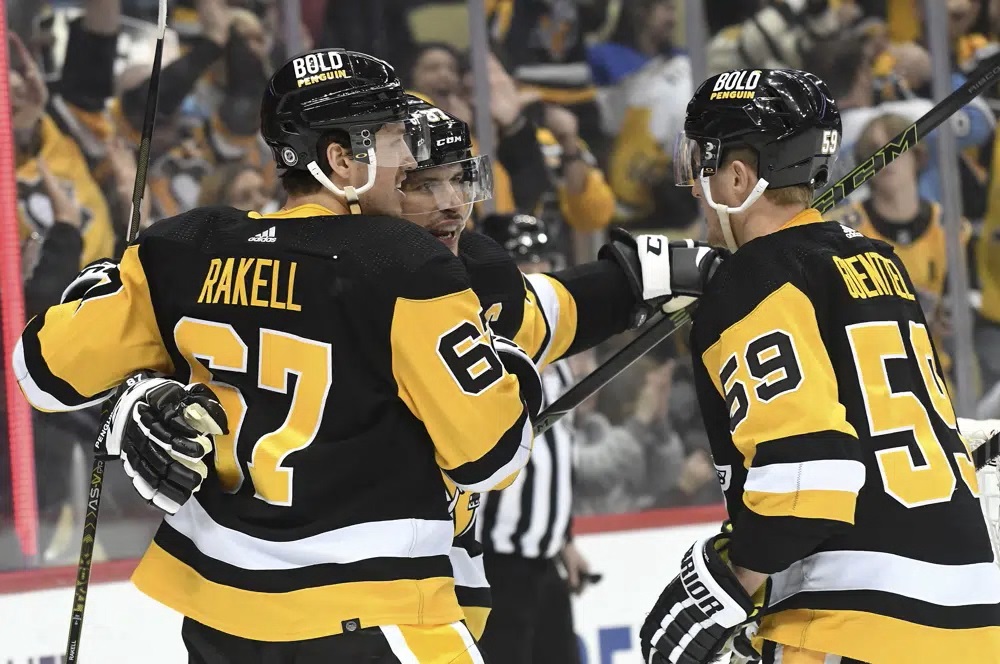 PITTSBURGH (AP) — The Pittsburgh Penguins enjoyed a breakout night after a difficult week.
Sidney Crosby started a second-period surge and the Penguins beat the Tampa Bay Lightning 7-3 on Sunday night.
Crosby's power-play goal with 4 1/2 minutes left in the period broke a 2-2 tie and started a sequence in which Pittsburgh scored five goals in 4:27, the second-fastest five goals scored in team history. Pittsburgh's outburst highlighted a six-goal second period and helped the Penguins win their second straight following a four-game losing streak.
"I think this is something we can build on," Penguins coach Mike Sullivan said. "Every game is a new challenge, but certainly our team can take confidence from the last couple games we played."
Crosby scored his 26th goal of the season and became the first active player — and 14th in NHL history — to record 13 or more 70-point seasons. Evgeni Malkin scored his 23rd goal and added an assist, while Drew O'Connor, Teddy Blueger, Jeff Carter, Jason Zucker and Brian Dumoulin also scored for Pittsburgh. Casey DeSmith stopped 26 shots.
Nikita Kucherov scored his 23rd goal of the season and became the fastest to 700 career points in franchise history. Brayden Point scored his 36th of the season and Anthony Cirelli his ninth for the Lightning, who have lost four of their last six overall. Brian Elliott made 29 saves.
"You never want to give up that many goals in that short of time," Lightning captain Steven Stamkos said. "That's tough, but we'll have to regroup."
Pittsburgh received some much-needed secondary scoring against the Lightning. The Penguins are currently entrenched in a fight for a wild-card playoff spot, as Pittsburgh is attempting to keep the longest active playoff streak in North American sports alive. Pittsburgh has reached the Stanley Cup playoffs each of the last 16 years.
The six-goal scoring burst helped the cause on Sunday.
Blueger scored 52 seconds after Crosby to give Pittsburgh a 4-2 lead. It was his first goal since Dec. 6. Carter scored his ninth with 2:10 left — just 90 seconds after Blueger's goal — and Zucker made it a 6-2 game another 47 seconds later. Dumoulin scored with 5 seconds left in the second with his first goal in 99 games.
"I think we capitalized on the momentum," Blueger said. "Everybody contributed, so it felt good. When we grabbed the momentum, we didn't really let it go."
O'Connor opened the scoring for Pittsburgh 3:20 into the game when he tipped Marcus Pettersson's point shot behind Elliott. It was O'Connor's first goal since Jan. 24.
Cirelli tied it with 3:54 left in the first as he caught a piece of Zach Bogosian's point shot, which squeezed through DeSmith's equipment and trickled across the line.
Kucherov gave Tampa Bay a 2-1 lead 1:59 later with his milestone goal. Kucherov, who followed his own rebound, has points in five straight games. Point, who assisted on the goal, has a four-game point streak.
Malkin tied it 2-2 with a breakaway goal at 6:17 of the second as he caught a lead pass from the penalty box after serving a tripping call and beat Elliott between the legs.
A little more than nine minutes later, the Penguins started their scoring outburst to put the game away.
"I do think it's an important element of winning consistently, just finding offensive production throughout the lineup," Sullivan said. "If we have to rely on the same guys every night to score goals, it's hard to win consistently. Anytime you can get production throughout the lineup, it helps you sustain success."
UP NEXT
Lightning: Host Florida on Tuesday night.
Penguins: At Nashville on Tuesday night.
___
AP NHL: https://www.apnews.com/hub/NHL and https://www.twitter.com/AP_Sports