Examining The Competition For Utility Infielder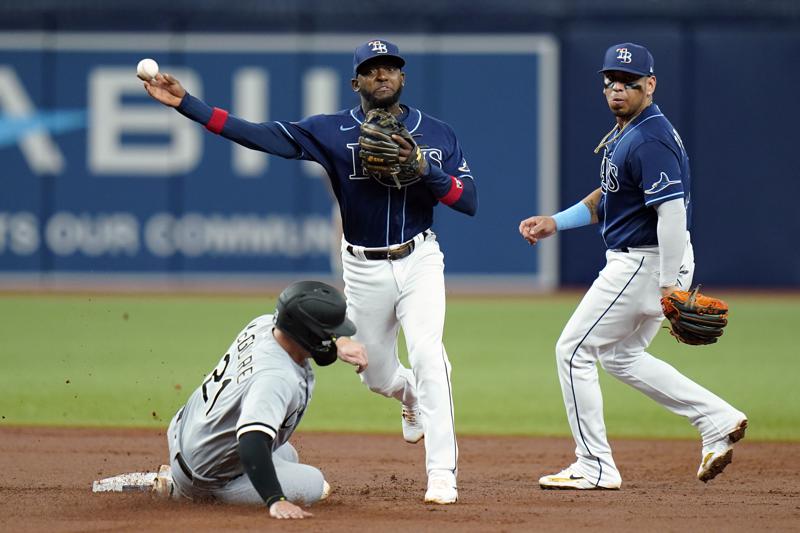 Follow @Steve_Kinsella1
Tampa, FL – The Tampa Bay Rays officially open their spring training on February 15th in Orlando. That is the date when pitchers and catchers are due to report. Five days later on February 20th full rosters are due in camp. The Rays camp roster is certain to have a few more names shuffled in and possibly out before now and mid-February.
As it stands now, there is an intriguing mix of players in competition for the role of utility infielder. Even if a couple of the players are only in camp for a few weeks, it's an opportunity for them to leave an impression on the coaching staff.
The competitors for the role(as of now) are Taylor Walls, Vidal Brujan, Osleivis Basabe, Greg Jones, Tristan Gray, and Ronny Simon.
Walls:
Taylor Walls (switch-hitter, 2 minor league options, on 40-man roster)
Walls has had the opportunity to fill the role over the course of the last two seasons. He has not been able to find his bat at the big league level. Over the last two seasons he's appeared in 196 games logging 642 plate appearances hitting .182/.188/.286 (66 OPS+). Defense is his calling card appearing in 141 games at shortstop, 37 games at 2b, and 26 games at 3b. He has registered 21 defnsive runs saved at those three positionss the last two years.
Brujan:
Vidal Brujan (switch hitter – 0 minor league options – on 40-man roster)
Brujan has appeared in 62 games over the past two seasons. The bulk of those games came last season (52 games). Like Walls, Brujan has struggled with the bat, albeit he has much less exposure.
In 188 big league PAs and he has struggled batting .150/.207/.231 (28 OPS+). He is not a plus defender, but has the added flexibility of playing both infield and outfield. With the Rays he has appeared in 35 games at 2b, 21 in RF, 5 at SS, 2 games in both CF and LF, and 1 at 3b.
At Triple-A Durham he's had more success with the bat in 166 games batting .274/.355/.440 (731 PAs). He has also showed a good knowledge of the strike zone striking out just 116 times while drawing 76 walks. Speed has been his calling card throughtout the minors. At Durham he has stolen 70 bases while getting caught 21 times. As with his bat, speed hasn't translated to success in the big leagues as he has only 6 stolen bases and has been caught 5 times.
Basabe:
Osleivis Basabe (right-handed – 3 minor league options – on 40-man roster)
Basabe was acquired from the Texas Rangers along with Alexander Ovalles and Heriberto Hernandez from the Texas Rangers in exchange for Nate Lowe, Jake Guenther, and Carl Chester in December 2020. The 22 year old spent the 2022 season between High-A Bowling Green (55G/236PA) and Double-A Montgomery (57G/259PA). He combined to hit .324/.385/.462 showing great plate awareness by striking out just 59 times while walking 40 times. He has appeared stricktly as an infielder in his minor league career appearing in 119 games at SS, 68 at 2b, 65 at 3b, and a one game at 1b.
Jones:
Greg Jones (right-handed, 3 minor league options, on 40-man roster)
Jones was the 22nd overall pick in the 2019 draft. He spent the 2022 season split between High-A Bowling Green (56G/257PA) and Double-A Montgomery (79G/358PA). He combined to hit .270/.366/.482 with 14 HR and 34 SB (caught just twice). He's yet to add versatility to his profile spending his minor league career at shortstop. His calling card is his blazing speed, but he does add in a bit of powe. In 199 minor league games (893PA, he has 90 stolen bases while getting caught 15 times and hit 23 homers.
Simon:
Ronny Simon (switch hitter – non 40-man roster)
Simon was acquired from the Arizona Diamondbacks for Jordan Luplow following the 2021 season. He spent last season between High-A Bowling Green (70G/314PA) and Double-A Montgomery (39G/159PAs). Betwee the two teams he hit .269/.303/.479 with 22HR and 34 stolen bases (caught 8 times). His season culminated with a trip to the Arizona Fall League where he appears in 21 games and posted a .952 OPS. His positional versatility was limited to 2b base (65 games) and 3b (27 games).
Gray:
Tristan Gray (left handed – not on 40)
Gray was acquired along with Daniel Hudson from the Pittsburgh Pirates in exchange for Corey Dickerson in Febuary of 2018. He's spent the last two season with the Triple-A Durham Bulls where he has tapped into his raw power. With Durham the last two years (199 games/775 PA) he's hit .232/.293/.466 with 41 home runs. Last season he hit .225/.282/.487 with 33 homers in 500 plate appearances. In his Triple-A career he's shown versatility on the dirt appearing in 104 games at SS, 55 games at 3b, 27 games at 1b, and two games at 2b.
Forecasting The Competition:
If the roster remains as it is, the competition realistically becomes between Vidal Brujan, Taylor Walls, and Tristan Gray. The first competition will be between Brujan and himself. As an out of options player, Brujan needs to make the team out of camp or be exposed to waivers. If he clears waivers the Rays can send him outright to Durham and he doesn't have the option to refuse the assignment. The Rays can also trade him within seven days of removing him from the 40-man roster, but the team acquiring him would have to keep him on their 26-man roster. Coming to camp and making an early impression keeps Brujan in a lead position.
Speed At A Premium?
He has several things working in his favor, despite the lack of MLB success thus far and his precarious roster situation. He has the ability to play both infield and outfield, he's a switch hitter, and maybe a factor that will be more magnified this season than any other, his speed.
MLB seems determined for more action on the bases and have institutued several rule changes that may enahnce Brujan's value on the basepaths. The size of the bases will increase from 15-inches to 18-inches pitchers will be limited to two pickoff attempts (or stepping off mound) per batter, and a pitch clock will be instituted. A pitch clock will help baserunners knowing that pithcers only have 20-seconds betwen pithces (15 seconds with bases empty). These attempts to enhance action on the bases could benefit Brujan.
Leather First?
Taylor Walls doesn't have great speed but does possess a great glove at multiple positions. His greatest asset is his defensive ability at shortstop. If there is not an injury to an infielder in camp, especially Wander Franco, I would expect Walls to open the sesason with the Durham Bulls.
More Seasoning?
Greg Jones, Osleivis Basabe, and Ronny Simon have very little chance of breaking camp with the team, regardless of how they perform. I expect we'll see much of them early in camp, but given their lack of upper level minor league competition, I would expect them to be sent to minor league camp. Jones and Simon should open the year with the Double-A Montgomery Biscuits while Basabe has an opportunity to open the season with the Triple-A Durham Bulls. Basabe seems to be the more refined hitter than either Jones or Simon and he's already expanded his defensive profile.
The Sleeper?
The sleeper in the competition is Tristan Gray. While he is an undisciplined hitter his defensive versatility and left handed power bat make him an intriguing option. He has also already been in camp with the Rays and made an impression on Kevin Cash. Making the roster would be a long shot. If the "in case of emergency" situation wer to occur in camp, Gray would be ahead of the trio of Basabe, Simon, and Jones.
Leader In The Clubhouse?
Barring a free agent signing or trade for of a utility multi-position player the leader in the clubhouse by a narrow margin is Vidal Brujan. The competiton could heat up with an outside player being brought in between now and the opening of camp. Of course, there is no guaranteed that Brujan himself is in camp with Tampa Bay.