Is it time to move Patino to bullpen?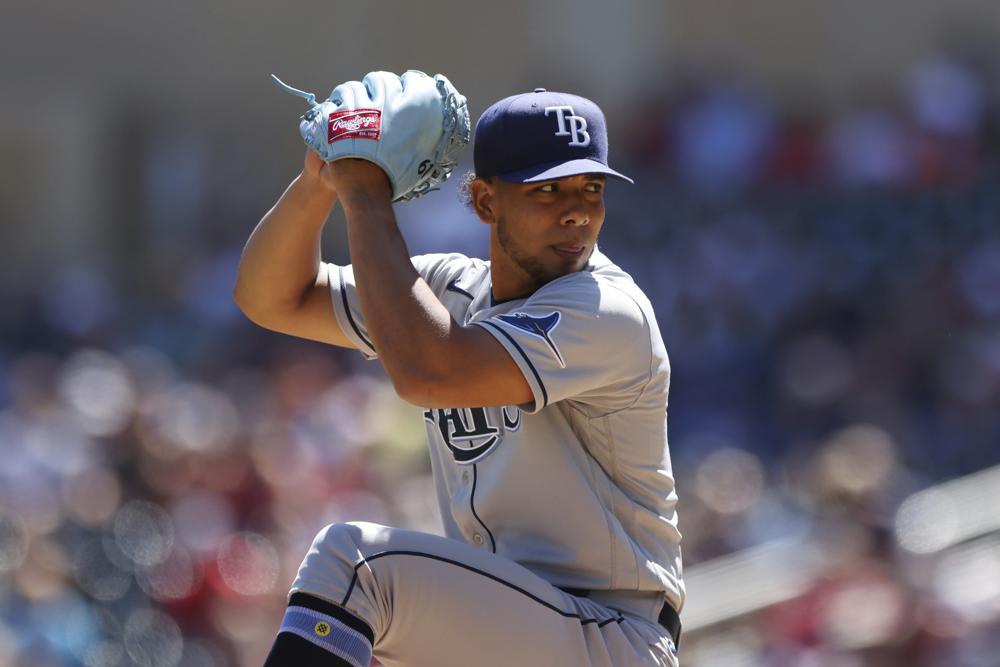 Follow @Steve_Kinsella1
Tampa, FL – The Rays pitchers and catchers report to spring training on February 15th with full squads to report by February 20th. Nearly all of the players in camp will have defined roles and will prepare accordingly. Shane McClanahan for instance is a starting pitcher, Pete Fairbanks is a reliever, etc. Postion players also share in defined roles but may involve more than a single position (thus is the Rays way). Seemingly the only Rays infielder with a static position is shortstop Wander Franco.
As camp opens it seems there may be some uncertainty as to what role Luis Patino will fulfil. The question is whether or not he should remain a starting pitcher or is it time that the team move him to the bullpen?
Heralded Prospect Acquired From Padres
Patino was the most significant player acquired from the San Diego Padres in the Blake Snell trade on December 29, 2020. In that deal the Rays received Patino, catcher Franciso Mejia, minor league catcher Blake Hunt, and minor league pitcher Cole Wilcox.
Patino, just 21 years old at the time had already made his MLB debut with San Diego during the 2020 season. He was ranked by Baseball America prior to the 2020 season as the 19th best prospect in baseball and #23 prior to the 2021 season with the Rays.
Inconsistentcy Best Defines 2021
During the 2021 season Patino went through the growing pains that most young pitchers encounter. Mostly, his season was best defined as inconsistent. He finished the year 5-3 with a 4.31 ERA logging 77.1-innings. He added to his workload with the Triple-A affilate Durham Bulls. There he was 3-1 over seven starts (29.1 innings) with a 3.07 ERA. He worked a combined 106.2 innings, a solid number to build off in 2022.
Injuries Derail 2022 Season From The Start
The 2022 season could not have gone any worse for Patino. He only made 13 pitches in his season debut on April 11th against the Oakland Athletics. He was forced to depart with a strained oblique and was later moved to the 60-day injury list.
While rehabing from the oblique injury with Durham, Patino developed a blister which slowed his return to the Rays. He finally was deemed healthy and recalled to Tampa Bay on July 15th to face the Baltimore Orioles. He was optioned back to Durham following his July 23rd outing against the Kansas City Royals. The move was to make room for the return from the IL of Jeffrey Springs.
Patino returned for a cameo appearance on August 18th and posted his most impressive start of the season. He held the Kansas City Royals scoreless for 5.2-innings. He was optioned back to Durham after the start, but Manager Kevin Cash was enthusiastic about the performance. "He's a big weapon. If we can bottle that up and see if we can continue to build off that, there's no doubt," he said. "His last September and then in the postseason, he was as powerful as any pitcher in 2021. So if he can do that, get on that run again, he can really help us."
Patino would have another opportunity to step in and help the Rays after Shane McClanahan went to the IL with a shoulder issue in late August. Patino was summoned from Durham to face the Boston Red Sox on September 5th and allowed three runs spanning five innings.
Ugly End To 2022 Season
His next start, and final start of the 2022 season, can only be summed up by the word disastorous. He lasted just 1.1-innnigs and allowed nine runs (all earned) on five hits including three homers. After the game he was sent back to Durham following the start.
Scheduled to make a start in Durham on September 17th but Patino was shelved due to shoulder discomfort; thus bringing his 2022 season to an end.
With the Rays he was 1-2 with a 8.10 ERA spanning just 20 innings. With the Durham Bulls he worked he was 3-2 with a 4.50 ERA spanning 34 innings. All together he worked just 57 innings (including 3 innigns with the Florida Complex League team).
Patino has been able to break the 100 inning mark just once in his professional career. He has worked just 83.1 innings in 2018, 94.2 in 2019, 17.1 in the truncated 2020 season, 106.2 in 2021, and 57 in 2022.
Opportunity Passed?
For Patino to reach his potential as a starting pitcher would first require the opportunity. Even though injuries are inevitable with stating pitchers, Patino seemingly is not the first in line to assume a spot.
Currently, the Rays have Shane McClanahan, Tyler Glasnow, Zach Eflin, Drew Rasmussen, and Jeffrey Springs locked into their rotation. All are under team control for at least the next two years, as is Yonny Chirinos.
If Patino were to get an opportunity to start the injuries to the rotation would have to be early in the season. Possibly a trade of Yonny Chirinos or Drew Rasmussen open the door a bit.
The later the season goes with the healthy starting five and Chirinos still in the organization the less likely the opportunity becomes.
In additon, Tampa Bay also have a group of young starters that could be utilized as the year goes on. Some with more polish than others. Taj Bradley and Mason Montgomery are two prospects on the rise with Bradley firmly in the Bulls rotation. Others that could be utilized in spot-start appearances would be Josh Fleming, Michael Mercado, Elvin Rodriguez, and Cooper Criswell.
Should Patino Head To Bullpen?
The Rays may want Patino stretched out as a starter in the event of multiple injuries to starters in camp. They may want him stretched out to build an innings base as well as to showcase him for an in-camp trade. It would also be an opportuntiy for other teams to see that whatever ailed his shoulder at the end of 2022 isn't limiting him in 2023.
It may also be most beneficial for the Rays to allow Patino to compete for a spot in the bullpen. He could be utilized as a one inning arm or possibly a more quasi- short-to-long depending on need arm.
He wouldn't be the first Rays player to transition from starting to relief and find success. Both Alex Colome and Wade Davis succesfully make the transition.
Patino hasn't failed as a starter, his future may still be in that role, but that shouldn't limit the Rays from seeing just how dominant he could be in the shorter relief role.
Right Handed Relievers
The Rays are in a precarious situation as camp opens with right handed relief options. Injuries could creep up at any moment and the Rays could be caught in a scramble.
Pete Fairbanks, Jason Adam, and Shawn Armstrong seem to have three spots in the bullpen. Rule 5 pickup Kevin Kelly and Ryan Thompson are in competition for the right handed groundball specialist. Calvin Faucher had an unimpressive 2022 campaign but remains on the 40-man roster and will be competing for a spot in the pen. Colby White is also on the 40-man roster, but underwent Tommy John surgery last April and his status for opening the season is in doubt.
Tampa Bay has also invited a host of other right handed relief options to camp including Colten Brewer, Trevor Brigden, Braden Bristo, Zack Burdi, Ryan Burr, Ben Heller, Heath Hembree, Trevor Kelley, Anthony Molina, Chris Muller, Hector Perez, Evan Reifert, Josh Roberson, and Jaime Schultz.
Option Dilemma
The Rays are also faced with the dilema that Patino only has one option remaining. If he spends 20 or more days in Triple-A that final option wil be used. That means, entering the 2024 season Patino could not be optioned to Triple-A without being exposed to waivers. There ins't a more precarious spot to be in for an organization and a high-celing prospect than to be out of options.
Trade Stock
A successful full season in the bullpen wouldn't diminish Patino's stock as a starting pitcher. In 2012 Wade Davis appeared in 54 games out of the bullpen with Tampa Bay (3-0, 2.43 ERA). He was then traded to the Kansas City Royals in the Wil Meyers trade. The Royals tried to put him into their rotation once again in 2013. He made 24 starts and posted a 6-10 mark with a 5.67 ERA beore being transitioned back to the bullpen. From there his career flourished as he was dominant the next four seasons pitching to an unimaginable 1.45 ERA over 241.1-innings of work.
Final Thought
Luis Patino's opportunity to help the Rays as a starter is very much dependent on several worst-case scenarios. Injuries being the primary function that would land him back in the rotation.
Other than that, he has to outperform Yonny Chirinos, Josh Fleming, and Taj Bradley for the innings. The competion for Patino would occur at the Triple-A level which would burn his final minor league option. Even in Triple-A Patino will have to have his innings monitored after last season's low total due to the multiple injuries.
I believe the Rays could benefit the most in 2023 by having Luis Patino in their bullpen ideally for the entire season. This, of course, would be dependent on his performance. If he is performing in the role poorly than the trip to Durham would allow the Rays to stretch him back out to his more comforatble role as a starter and reevaluate.
An early spring injury to a starter plus a trade of Yonny Chirinos would change my mind, but as it stands today, I'd like to see if he could pick up a few miles per hour on the heater, find the swing and miss ability, and settle in the bullpen.