Rays Hope To Add Talent For '16 And Have More Fun
The Rays, with a revamped front office and roster, finished the 2015 season with a 80-82 record. Kevin Cash's squad improved on the 77-85 record posted by the 2014 team.  The whirlwind of activity surrounding the team at the tail end of the 2014 season (trading David Price) and the departure of both Andrew Friedman (Dodgers) and Joe Maddon (Cubs) had calmed. It was a crazy time for the franchise.
The 2015 season was a grind from the beginning to the end thanks to a never ending string of injuries. Starting with Jake McGee's elbow injury prior to spring training. Then losing Alex Cobb for the year to Tommy John surgery in camp. John Jaso walked to open the year, attempted to steal second, and hurt his wrist causing him to miss half the season. The injuries just kept coming through the season.
"I don't know if you can call it satisfying because we didn't get where we wanted to get or where we thought we were capable of getting." Kevin Cash said of the 2015 season. "The foundation that was set by our players and our coaching staff, we're definitely headed in the right direction."
"We didn't make it to the post-season." Matt Silverman said. "So, it's not as much fun as it could have been.There's a lot of optimism within our organization because of the foundation that we built here."
Both Cash and Silverman seemed pleased with the improvements from 2014 to 2015. Both wanted to win, because, winning is fun. "When you win games its fun, when you don't its not fun." said Cash.  "We want to have more fun next year."
The 2016 roster construction started early and the offseason wasn't as tumultuous as Silverman's first but a number of deals were made.
Rays Get Started Early: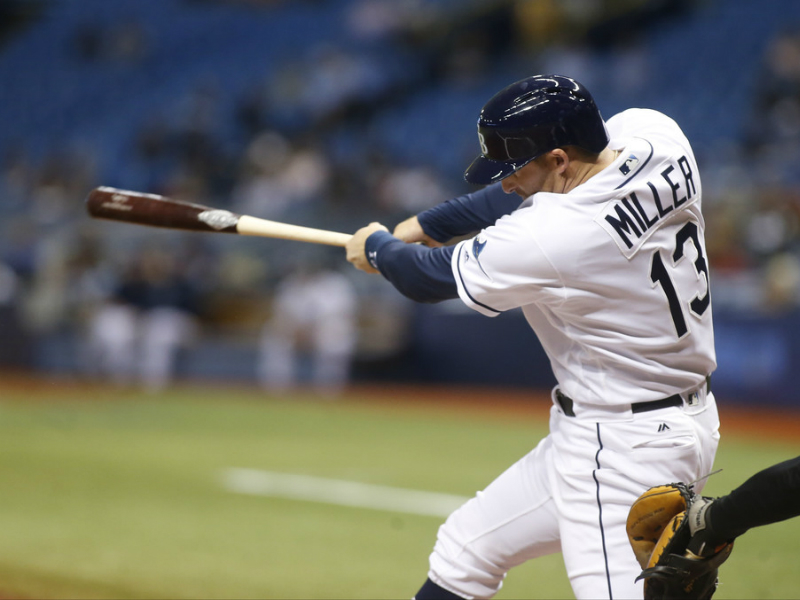 On November 5th the Rays sent SP Nathan Karns, RP C.J. Riefenhauser, and OF Boog Powell to the Seattle Mariners. Seattle sent SS Brad Miller, RP Danny Farquhar, and 1b Logan Morrison to the Rays.
Kiermaier Wins Gold:
On November 10th, Kevin Kiermaier was awarded the sixth Rawlings Gold Glove Award
in franchise history.  He joins first baseman Carlos Peña (2008), third baseman
Evan Longoria (2009 and 2010), left fielder Carl Crawford (2010) and pitcher Jeremy Hellickson (2012) as the only Rays to win a Gold Glove.
In his first season in the big leagues, Kiermaier led all major league players with 42 Defensive Runs Saved—the highest mark since 2003, when Baseball Info Solutions started tracking it.
Setting The 40-Man Roster:
The Rays set their 40-man roster by claiming Chase Whitley off waivers from the New York Yankees. Whitley, recovering from Tommy John surgery, would miss most of the 2016 season.
They also added pitchers Jacob Faria, Taylor Guerrieri, German Marquez, Blake Snell, and infielder Taylor Motter. To make room on the 40-man roster, the club outrighted  Grayson Garvin and Burch Smith to Triple-A Durham. Additionally, the designated  J.P. Arencibia, Daniel Nava, Brandon Gomes, and Kirby Yates for assignment.
Rays Acquire Conger:
On December 2nd, the Rays acquired catcher Hank Conger from the Arizona Diamondbacks in exchange for cash considerations. Conger, a switch-hitter, was coming off a season in which he batted .229/.311/.448 with 11 home runs in a backup role with Arizona. Defensively, he struggled to throw out baserunners nabbing just 1-of-43 runners in 2015.
Rays Active In Rule 5 Draft:
The Rays lost a pair of outfielders, Tyler Goeddel (Phillies) and Joey Rickard (Orioles) in the Rule 5 draft.  They added reliever Adam Kolarek in the minor league portion of the draft.
Rays Dip Into Free Agent Market, Sign Pearce:
In late January the club signed Steve Pearce to a 1-year/$4.75MM deal.  He has spent his last three seasons with the Baltimore Orioles organization, batting .258/.339/.482 (194-for-751) over that span with 40 homers—36 of which have come over the 2014-2015 seasons. Pearce was born in Lakeland, Fla., and attended Lakeland Senior High School. He will become the first Lakeland productto play for the Rays and the 12th Tampa Bay-area native to do so, most recently outfielder Matt Joyce from 2009-14.
Forsythe Gets Contract Extension:
On January 15th, the Rays and infielder Logan Forsythe have agreed to a two-year contract with a one-year club option for 2018. The contract replaced the second and third years of arbitration eligibility and potentially his first season of free agency.
Forsythe was coming off a season in which he was named the team's MVP by the Tampa Bay Chapter of the Baseball Writers Association of America.  He slashed .281/.359/.444 adding 17 homers.
Rays Complete Trade With Rockies:
On January 28th, the same day the team signed Steve Pearce, they complete a deal with the Colorado Rockies.  In that deal, the Rays sent Jake McGee and German Marquez to Colorado in exchange for Corey Dickerson and minor league infielder Kevin Padlo.
Dickerson hit .304/.333/.536 (68-for-224) with 10 home runs and 31 RBI in 2015, but was limited to 65 games due to three stints on the disabled list: the first two due to plantar fasciitis in his left foot; the third due to broken ribs sustained after diving
for a fly ball. In 2014, he hit .312/.364/.567 (136-for-436), leading the Rockies in home runs (24) and extra-base hits (57) while ranking second in RBI (76).
Padlo, 19, split his first full professional season between Class-A Asheville and Short-A Boise. He earned Northwest League midseason and postseason All-Star honors. He was named by Baseball-America following the season as the number 10 prospect in the Northwest League.
Reliever Webb Added After Camp Opens:
After the opening of Spring Training, the Rays announced the signing of reliever Ryan Webb. The 30 year old Webb, a native of Clearwater, spent the 2015 season with the Cleveland Indians appearing in 40-games with a 3.20 ERA (18-ER/50.2-IP).
Spring Training Hopes:
Unlike the previous two seasons there wasn't the surprise injury to the Rays expected opening day group. With that the Rays entered camp with 15 position players competing for 13 spots.
When camp opened the roster included:
Curt Casali (C), Logan Morrison (1b), Logan Forsythe (2b), Brad Miller (SS), Evan Longoira (3b), Desmond Jennings (LF), Kevin Kiermaier (CF), Steven Souza Jr. (RF), Corey Dickerson (DH)
The bench included:
Steve Pearce (OF/1b), Hank Conger and Rene Rivera (C), Brandon Guyer (OF), James Loney (1b), and Tim Beckham (IF).
The rotation included: Chris Archer, Drew Smyly, Matt Moore, Jake Odorizzi, and Erasmo Ramirez.
The bullpen included: Brad Boxberger, Alex Colome, Steve Geltz, Xavier Cedeno, Danny Farquhar, Enny Romero, and Ryan Webb.
The team partook in a special moment in Spring Training as they played an exhibition game in Cuba. They were the first major-league team to play in Cuba since the Orioles in 1999.
Unfortunately, the team was once again hit with an injury in camp as Brad Boxberger had to undergo abductor surgery and was expected to miss the first two months of the season. His injury earned a spot on the opening day roster for camp invitee left-hander Dana Eveland.
Boxberger joined Alex Cobb and Chase Whitley, who were both recovering from Tommy John surgery, on the teams disabled list to open the season.
Prior to setting their roster for Opening Day, the Rays released catcher Rene Rivera and first baseman James Loney.
Entering the 2016 season the Rays farm system was ranked by Baseball America as the 13th best. The team was coming off a 80-82 campaign and hoping to avoid the injury bug and finish a season over the .500 mark for the first time in the Kevin Cash era. Unfortunately, everything went wrong and the 2016 season turned from promise to a nightmare finishing 68-94. More on that next.