Friedman/Maddon Depart – Organization Reshuffles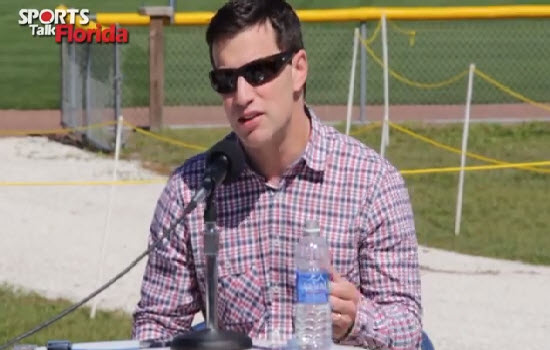 It was something fans of the Tampa Bay Rays were not used to. Not since 2007 had the team finished with a losing record. Unfortunately, injuries and poor performance short-circuited the 2014 season resulting in a final mark of 77-85. It was their first losing season since finishing 66-99 in 2007, the last year of the Devil Rays.
At the trade deadline, David Price was sent to the Detroit Tigers in a three-team deal that marked the beginning of a rebuild that has continued through today.
After the season, Andrew Friedman and Joe Maddon did the normal routine of talking to the media. The discussed what happened in '14 as well as what direction the team would take moving forward.
"It's incumbent on us to really look at each individual player." Friedman said. "Really dig into the various components of our roster and not let the emotions of the season set in and really and look at it from a very analytical critical standpoint which helps provide that foglight to see through all of that."
About the off-season plans he added, "Our goal it to be really good next year. We feel we have the core in place to do that. Obviously, we're going to go into it with a really open mind and try to figure out what puts us in that position. In the best position to be good next year and obviously with keeping an eye on future years as well."
Maddon was asked about his future as the clubs manager. "I love it here, you guys know that. It's very hard for me to conceal that. To be here from 2006 and build what we have is very exciting. Hopefully it's going to last many more years."
"I've often said that this is the best place to work in all of Major League Baseball. I totally believe that to be true. I've also stated that a new ballpark was a situation that we'd like to get done here and I'm not going to back off of that at all. But this is the place to be, this is the place to work and I think the players would make the same argument."
Two weeks after the press conference Andrew Friedman departed the Rays organization to take over the Los Angeles Dodgers.
"As I embark upon my next journey, I have only thanks and gratitude to the Rays organization and the Tampa Bay region for a wonderful 10 years together," Friedman said in a team release. "I am truly grateful for the opportunity to have been part of something so special and for the passion and support of this exceptional fan base. The Rays organization is loaded with talent from ownership to players and everyone between. We were able to create together an unbelievable culture that no doubt will continue, and I am absolutely confident that the successes we achieved will continue into the future."
Silverman Takes Over Baseball Operations:
Matt Silverman took over as President of Baseball Operations and Brian Auld was promoted from Senior Vice President of Business Operations to Team President. Silverman joined the Rays in 2004 as director of strategic planning and has served as team president since Sternberg became principal owner in October 2005.
"I thank Andrew for all he has done for the Rays organization. We have enjoyed great success together, and that's largely due to the deep and talented organization that Andrew has helped to assemble both on and off the field," said Rays Principal Owner Stuart Sternberg in a press release. "While we will miss Andrew, we have prepared ourselves for this possibility, and I have great faith in Matt and Brian in their new roles."
Bloom And Neander Promoted:
Friedman was not taking any members of the Rays front office with him. With that Chaim Bloom and Erik Neander would be assuming larger roles in baseball operations. On October 17 Bloom and Neander were officially promoted to Vice Presidents of Baseball Operations.
"Erik and Chaim's promotions are well deserved as they have been essential contributors to our operation for years," said Silverman. "I look forward to working with them in all facets of baseball operations, and I know they will continue to be great leaders of our deeply talented and dedicated department."
Bloom joined the Rays in February 2005 and was named Director, Baseball Operations in November 2011. Prior to that he had worked in player development, international scouting, contract negotiation and management of the major league roster.
Neander joined the Rays in January 2007. He had spent the last three seasons prior to 2014 as Director, Baseball Operations, assisting in all aspects of the baseball operations department, with an emphasis on player personnel and research and development.
The front-office makeover was complete. Brian Auld would assume duties as Team President. Matt Silverman would head the baseball operations and Chaim Bloom and Erik Neander would play prominent roles assisting Silverman. With that out of the way it was time to begin laying the groundwork to improve on 2014's disappointing finish.
Maddon's Shocking Departure:
The work had just begun. On October 24th news surfaced that Joe Maddon would not return as the Rays skipper for the 2015 season.
"Joe Maddon has exercised an opt-out in his current contract, a contract which was not scheduled to expire until after the 2015 season." Stu Sternberg said in a press release. "We tried diligently and aggressively to sign Joe to a third contract extension prior to his decision. As of yesterday afternoon, Joe enabled himself to explore opportunities throughout Major League Baseball. He will not be managing the Rays in 2015. Joe has been our manager for nine seasons, and the foundation of success laid during his tenure endures. We thank him for all that he's meant to the organization."
Matt Silverman was surprised by Maddon's decision. "I believed that Joe wanted to be the manager of the Rays long-term. That was my intention and Stu's intention, and we dove headfirst into discussions about an extension. But it takes two parties to reach an agreement, and we weren't able to reach an agreement. And that's how we got to this day."
Bill Chastain of MLB.com talked to Maddon about the events leading up to the opt-out. "I didn't know anything about [the opt-out clause] until Andrew left, because it wasn't even on my radar," Maddon said. "And I didn't even remember or realize that I had this opt-out clause until I was informed of it. There was a two-week window [to make a decision].
"The word is 'agonizing' in trying to come to the terms with the Rays negotiating-wise, and I could just see that it wasn't going to get to the point where I thought it was necessary to get to. And with that I thought it was the right thing to exercise the option to get out there and explore this opportunity, which is really unique and something that I've never had before."
Manager Search Ends With Hiring Of Cash:
Doug Glanville and Barry Larkin are the final additions to our initial round of interviews for #Rays manager. pic.twitter.com/zwM4XbsCk8

— Tampa Bay Rays (@RaysBaseball) November 10, 2014
The newly constructed front-office didn't waste time in beginning their manager search and the cast a wide net (More On Candidates Here).
Craig Counsell removed himself from consideration. The Rays trimmed the finalist list to three: Kevin Cash, Raul Ibanez, and Don Wakamatsu. On December 5, 2014 the Rays hired Kevin Cash to be the team's fifth manager in franchise history.
"We are proud to introduce Kevin as our manager," said Rays Principal Owner Stuart Sternberg. "His energy and dynamic personality will fit seamlessly with our clubhouse. We are fortunate to have such a talented individual, and Tampa Bay native, to lead our club as we strive to achieve new heights as a team and organization."
"Kevin is passionate, genuine and dedicated, and those attributes will resonate throughout our clubhouse," said President, Baseball Operations Matt Silverman. "As a catcher, a scout and a coach, he has always been a student of the game, and his communication and tireless work will put our club in a position to win, night in and night out."
Next Up: The Rebuild Continues How The 2015 Roster Was Built 
A new front office, a new manager, payroll issues, a farm system lacking and a disappointing 2014 finish. Who would be on Kevin Cash's 2015 roster and how did he and the Rays do?