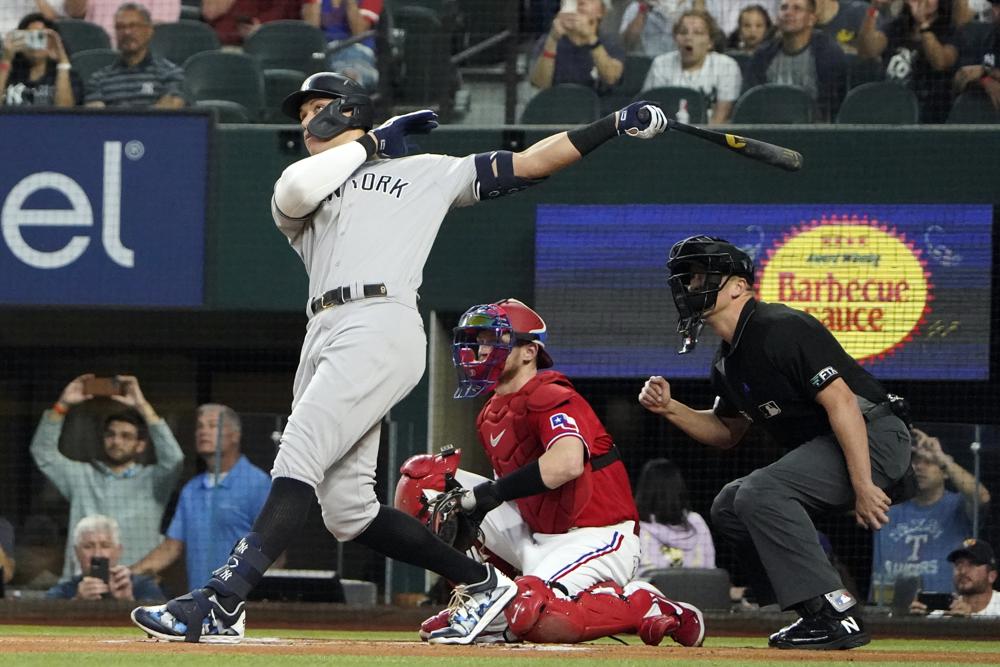 ARLINGTON, Texas (AP) — Yankees slugger Aaron Judge led off the nightcap with his American League-record 62nd home run and Gerrit Cole set the franchise single-season strikeouts record even as New York lost 3-2 to the Texas Rangers on Tuesday night for a doubleheader split.
Leody Taveras hit a two-run homer in the fifth inning of the second game to put the Rangers ahead to stay, after their 5-4 loss in the opener had extended their losing streak to seven games. The AL East champion Yankees have won 99 games, the Rangers 67.
Judge drove the third pitch of second game, a 1-1 slider from Rangers opener Jesus Tinoco, into the first row of seats in left field to end his long, tiring chase to break Roger Maris' AL mark that had stood since 1961.
It was the 55th game in a row Judge had played since Aug. 5, and the only homer he had hit in the previous 13 games was No. 61 last Wednesday in Toronto. He went 1 for 5 with a single and scored the decisive run in the opener Tuesday.
Cole (13-8) struck out nine, raising his major league-best total to 257. The right-hander had entered the game tied with the 248 strikeouts Ron Guidry had in 1978, when he was the AL Cy Young Award winner after going 25-3 with a 1.74 ERA. Cole passed Guidry when he struck out Rangers No. 2 batter Nathaniel Lowe in the first inning.