Rays Camp: Players On The Mend
The Rays are five weeks away from opening their 2017 season against the New York Yankees on April 2nd at Tropicana Field. My projected 25-man roster is included at the bottom of this page, but as we have seen so many times, this could change based on injuries.
Specifically, the Rays have five players on the mend whose status on opening day is in jeopardy. Wilson Ramos, Colby Rasmus, Steven Souza Jr., Logan Morrison, and Matt Duffy.
Wilson Ramos, Catcher
Injury: Right Knee: anterior cruciate ligament
Expected Return: Mid-May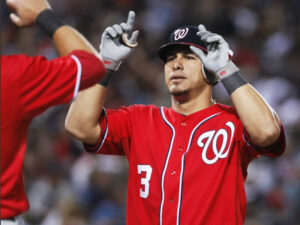 Ramos, 29, is coming off a season in which he earned his first career All-Star selection with the Washington Nationals while setting new career-highs in games played and almost all major offensive categories – runs scored, hits, doubles, home runs, RBI and all three triple-slash categories.The Rays signed him to a 2-year/$12.5MM deal in December.
One of the reasons Ramos said that he chose an American League team was for the ability to return to the field sooner as a designated hitter. He has set an April return date but the cautious Rays are looking more toward a mid-May to end-May return.
Colby Rasmus, Outfielder
Injury: Hip Surgery, Core Muscle Surgery
Expected Return: Opening Day
The Rays signed Colby Rasmus to a 1-year/$5MM deal with another $2MM in incentives. The 2016 season was a disappointing season with the Houston Astros as he hit .206/.286/.355 with 15 homers spanning 407 plate appearances. The Rays hope to see much more of the 2015 Rasmus where he hit .238/.314/.475 with 25 homers.
During the season, Rasmus developed a condition called cholesteatoma which in laymen terms is a cyst in the ear. Eventually, he'd undergo surgery to have the cyst removes and in the process replaced two ear bones with two prosthetic ones.
At the end of the 2016 season, he underwent hip surgery one to shave down a bone spur and to repair the labrum in his left hip and another to repair a core muscle.
"We'll see how it is in late February. I may be a little later in spring. We'll just see how it goes." Rasmus said. "I just want to make sure I do right by myself and my team and get my workouts in early."
Chaim Blooom, Senior Vice President of Baseball Operations, said the team had done their due diligence on Rasmus injuries and recovery. "Once he gets acclimated you're going to see Colby at 100-percent. We're optimistic for opening day. We know he's going to be behind going into the spring. Never want to say we feel certain about it but we're optimistic that he has a good chance to be active on opening day."
What if he isn't ready?
If he isn't ready by opening day the door will be open for Maxell Smith, acquired from the Seattle Mariners for Drew Smyly, to make the opening day roster. Additionally, Nick Franklin might see more time in left-field against right handed pitching while Rasmus continues his rehab.
Steven Souza Jr., Outfield
Injury: Hip Surgery
Expected Return: Opening Day
Souza's 2016 season came to end in mid-September when he made the decision to have surgery on his left hip to remove an impingement and to clean out the joint. The surgery was performed by Thomas Byrd in Nashville.
Souza finished the season hitting .247/.303/.409 with 17 homers spanning 458 plate appearances.  From August 1st through the end of his season he hit .257/.323/.431 with 7 homers spanning 158 plate appearances.
What if he's not ready?
If Souza is unable to go by Opening Day, expect Maxell Smith to open the season on the roster. Nick Franklin and Smith will both see time against right handed pitching while Rickie Weeks will log innings against left handed pitching.
Logan Morrison, First Base
Injury: Left Wrist Surgery
Expected Return: Opening Day
Last September 11th, Logan Morrison tore his left wrist sheath in his lone plate appearance in a game against the New York Yankees. He had surgery shortly thereafter and was fortunate that the tear was only minor.
With the Rays in 2016 he hit .238/.319/.414 with 14 homers spanning 398 plate appearances. He finished the season strong after a nightmarish start in which he batted just .119 (10-for-84) with no homers and had not driven in a run through May 19th. From that point on he finished the year batting .275/.350/.498 with 14 homers.
Bringing Morrison back allows the Rays to move Brad Miller off first base and back to the center of the diamond.  He also gives the Rays another capable bat against right handed pitching which he has a career mark of .244/.327/.435.  He doesn't need to sit against all left handed pitchers as he has a .246/.320/.364 mark against them.
What if he's not ready?
If Morrison isn't ready to open the season on the opening day roster then the Rays will probably use a combination of Rickie Weeks and Brad Miller at the spot. Nick Franklin and Tim Beckham would also be options to log innings.
Matt Duffy, Shortstop
Injury: Achilles Surgery
Expected Return: Opening Day
The Tampa Bay Rays acquired Matt Duffy in exchange for lefty Matt Moore at the trade deadline. At the time of the trade, he was in the middle of a rehab stint as a result of an Achilles strain that he suffered on June 19th while playing at Tropicana Field against the Rays as a member of the San Francisco Giants.
With the Rays he appeared in just 21 games batting .276/.300/.355 and overall between the Rays and Giants he hit .258/.310/.357 spanning 368 plate appearances.
The surgery included shaving down the heel bone in order to alleviate irritation and inflammation with the Achilles.
What if he can't go?
If Duffy is unable to go by opening day, that might open the door for shortstop Daniel Robertson to make the opening day roster. Tim Beckham would likely see most of the time at the position but Robertson could fill in at either short or second while Brad Miller logs innings at the position he manned during most of the 2016 season.
Injury: Elbow
Expected Return: 2018 
The Rays signed Nathan Eovaldi to a one-year/$2MM deal that includes a 2018 club option for $2MM with up to $3.5MM in incentives.
Eovaldi underwent Tommy John elbow surgery in September and will miss the entire 2017 season. It will mark the second such surgery for the 26 year old as he also had the procedure as a 17-year old while at Alvin High School in Texas.
In his big league career with the Dodgers, Marlins and Yankees he's made 134 appearances (127 starts). He has a record of 36-48 with an ERA of 4.21 while striking out 6.6 batters per nine innings while walking 2.6 batter per nine.
Last season before his injury he appeared in 24 games (21 starts) and posted a record of 9-8 with a 4.76 ERA (66ER/124.2IP) while striking out 97 and walking 40.
Rays Projected Opening Day Roster And Payroll
Currently, the major league portion of Rickie Weeks salary is unknown. Should he make the roster out of spring training he'll more than likely be guaranteed somewhere north of $1MM.