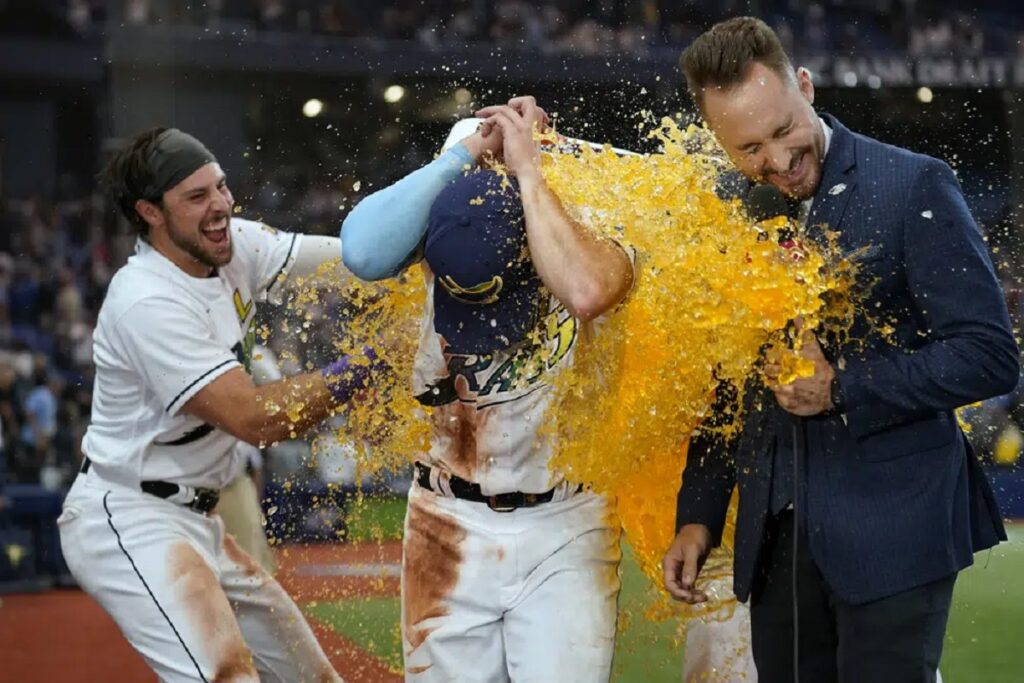 ST. PETERSBURG, Fla, (AP) — Christian Bethancourt hit a leadoff homer in the ninth and Brandon Lowe followed with a walkoff two-run shot off Reynaldo López to lead the Tampa Bay Rays over the Chicago White Sox 8-7 on Friday night.
"It's pretty great," Lowe said. "It's an awesome feeling. I think this might be my first walkoff homer of my life, honestly."
Harold Ramírez had a two-run homer off Michael Kopech during a four-run first for the Rays, who matched the 2019 Seattle Mariners as the only teams since 1901 to homer in each of their first 20 games. Tampa Bay is 11-0 at home.
Chicago was ahead 7-4 in the fourth after Eloy Jiménez hit his first home run this year, but Chicago couldn't hold the lead and lost for the seventh time in nine games.
"I don't know if we could say we saw that one coming." Rays manager Kevin Cash said.
Yandy Díaz hit and RBI single in the fourth and Tampa Bay came from behind in a three-run ninth off López (0-2), who is filling in while closer Liam Hendriks is treated for non-Hodgkin lymphoma, which is remission.
Bethancourt led off by driving a fastball to the opposite field in right. The ball dropped out of a fan's hands and back onto the field, determined to be a home run during a video review.
"I feel for Lopey right there," Kopech said. "He's been electric for us this year. To see that happen, it's pretty tough for him."
López is 3 for 5 in save chances.
Diaz singled and Lowe pulled a slider for the winning home run.
Kevin Kelly (2-0) pitched two scoreless innings for Tampa Bay, which is 4-3 since starting the season with a 13-game winning streak.
Elvis Andrus and Lenyn Sosa drew run-scoring bases-loaded walks during a go-ahead three-run third-inning in which the Chicago White Sox didn't put the ball in play.
The White Sox took a 6-4 lead as Jalen Beeks and Cooper Criswell combined to walk six and strikeout three. Beeks walked Andrus and Sosa, while the other run came home on a Criswell wild pitch.
Kopech rebounded to last five innings, allowing five runs, six hits, four walks with nine strikeouts during a career-high 104 pitch outing.
"I had a rough first, and then kind of felt like it changed and we carried that for a while,"Kopech said. "Credit to them. When you're hot, you're hot."
Rays are 11-0 at home. It's the longest streak to start a year since the 2009 Los Angeles Dodgers went 13-0.
NUMBERS
The Rays led the majors with 45 homers, The 2000 St. Louis Cardinals hold the big league record with 47 homers through 20 games. … Tampa Bay has outscored opponents 141-57. … The teams combined for 25 strikeouts and 11 walks during the 2:51 game.
TRAINER'S ROOM
White Sox: Manager Pedro Grifol said 3B Yoán Moncada (lower back) will need to play in minor league games before returning. "He's making strides but it's going a little slower than what we anticipated," Grifo said. … RHP Joe Kelly (right groin) threw batting practice. … RHP Matt Foster had season-ending Tommy John surgery on Wednesday.
Rays: CF Jose Siri (right hamstring) went 0 for 4 with three strikeouts as the DH for Triple-A Durham … RHP Tyler Glasnow (left oblique) is set to throw to hitters early next week.
UP NEXT
Rays LHP Shane McClanahan (4-0) and White Sox RHP Dylan Cease (2-0) are Saturday's starters.
___
AP MLB: https://apnews.com/hub/MLB and https://twitter.com/AP_Sports
MORE FROM SPORTS TALK FLORIDA: