Hardy Wows Dana White With Pro Debut
It's been said many times before.  The UFC needs superstars.  Are they getting desperate?  Maybe.  CM Punk did just fight…on pay-per-view…for a second time…even though he was dominated for over two minutes in his first fight.
Rumors are swirling of Brock Lesnar coming back to the UFC despite being towards the end of a two-year suspension for having banned substances in his system.  So the fact that the UFC is interested in Greg Hardy isn't surprising.
Hardy, a former NFL All-Pro, has a checkered past.  The biggest black-eye of Hardy's career is a 2014 misdemeanor conviction following his involvement in a domestic violence incident.  The victim refused to testify, which lead to the charges getting dropped.
But Hardy is putting the past behind him and looking forward.
"If I was a genie or if I was fortune teller, I'd play the lottery instead of fighting or instead of having a job," Hardy told MMAjunkie following his win at Dana White's Contender Series 9.  "I don't know how people are going to react, but I know – and a message to everybody – that I'm willing to go up against it every day of my life to prove that I am a human being, I have worth, I am willing to earn it – and that I'm an entertainer, and I'm one of the best in the world.  I keep the fans happy and I love them just as much as I love my family."
But following a 57-second knockout over Austen Lane (4-1) in his professional debut, UFC President Dana White decided to give Hardy a contract.  But Hardy will not be fighting in the UFC in his next fight, he will take a few more fights on the regional level to gain more experience.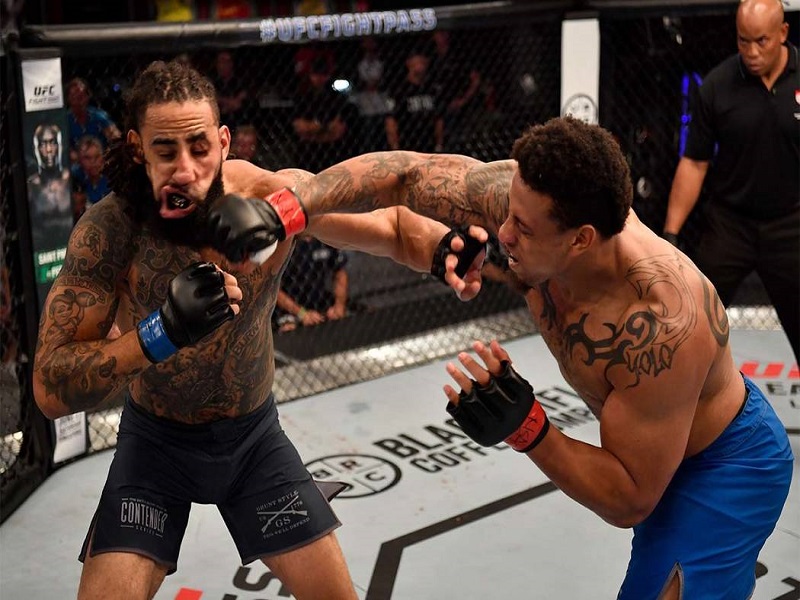 "They're going to build me up and that's how I'm going to get my shot," Hardy said.  "I'm all for it. Like I said before, I want to earn this and it's a perfect opportunity for me to come back, perfect my game, come out and show what I have to give.  As many times as I have to do it, I'm willing to do it.  I'm 1-0.  That's awesome and it's really cool.  I worked hard.  But at the same time, I've got five fights and it's something that needs to be earned."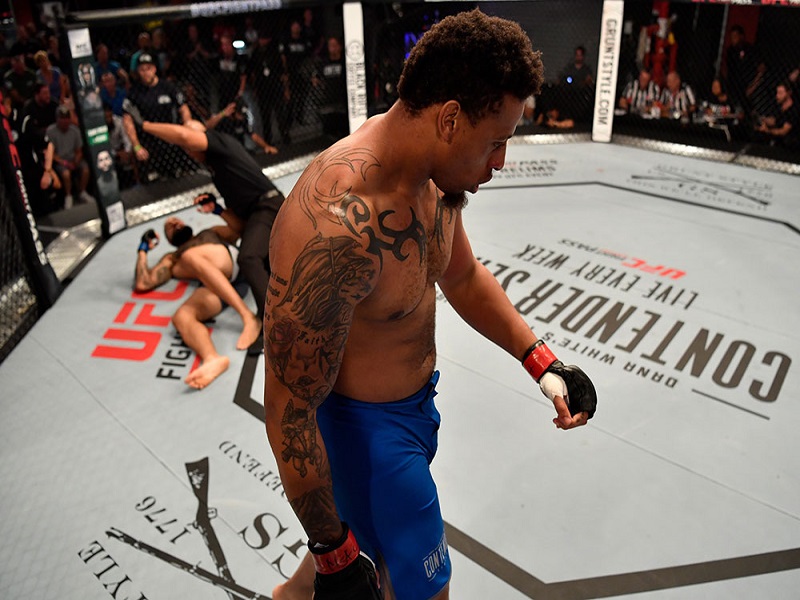 White agrees Hardy (1-0) has put his ugly past behind him and looks forward to working with him later.
"People always make mistakes and the thing about mistake is, how do you recover from that?  How do you act after you've done something bad?"  White said.  "This guy has paid his dues and like I said, he hit rock bottom.  He built himself back up, he's going out there and he's fighting these amateur fights where he doesn't get paid.  Now he came here and I think he made $10,000 and $10,000.  He's working his way back up the ladder.  He's doing the right things.  He's off drugs, he's off alcohol and he's trying to change his life."
Here's White reaction to the knockout via the UFC's Twitter.
Here's the reaction from the guys up front …. pic.twitter.com/QFCN5MquwG

— UFC (@ufc) June 13, 2018
Look for Hardy, 29, to fight one more time in front of Dana White with another fight or two in another regional show.  He didn't look like a fighter making his professional debut.  He trains in one of the biggest MMA gyms in the world, American Top Team, and is only going to get better.  Don't be surprised to see Hardy fighting in the UFC by summer 2019.