Title Fights, Rising Stars and CM Punk…UFC 225 Has It All
1. The Middleweight Championship Is On The Line
The main event of UFC 225 is a good one, featuring a rematch between the two best fighters in the world at 185 lbs.  Robert Whittaker will look to defend his middleweight belt for the first time against #1 Yoel Romero.  Whittaker (19-4) won the interim belt when he faced Romero (13-2) at UFC 213 last July.
Michael Bisping was the champion at the time, but fought Georges St-Pierre and lost the belt.  St-Pierre later vacated the belt, making Whittaker the true champion.
Whittaker has won eight fights in a row, winning fight bonuses in four of those fights.  When he defeated Romero in their last fight, Whittaker had injured his leg early in the fight.  But Whittaker was able to power through, fight for the full 25 minutes and win the unanimous decision.
After losing to Whittaker, Romero took a fight on short notice against against former middleweight champion, #2 Luke Rockhold at UFC 221 in February.  Whittaker was supposed to fight Rockhold at UFC 221, but was forced to pull out due to a staph infection in his stomach.
A shakeup the day before the fight, with Romero missing weight, coming in at 187.7 lbs.  Romero, 41, was able to put the distraction behind him, dominating most of the fight before getting the knockout 1:48 into the third round.
Even with Romero looking great in his last fight, many questions arise going into Saturday night.  Is Whittaker healthy?  When does Father Time catch up to Romero?
Their first fight can be seen below via the UFC YouTube page.
https://youtu.be/qCt4H7U8JOE
Whittaker has looked amazing since moving up from 170 lbs to middleweight.  He was able to beat Romero on nearly one leg the first time, so he should be able to do it again.  Romero's gas tank fades as the fight goes on, so expect Romero to come out strong and like the first fight, Whittaker to land more shots as the fight goes into deep waters.
Prediction:  Whittaker 5th Round TKO
2. The Interim Welterweight Belt Is Up For Grabs
The interim belts are pointless in the eyes of many.  In most cases, it's awarded to the "number-one contender."  Very few fans will look at the winner of Saturday night's fight as the champion of the welterweight division.  With champion Tyron Woodley (18-3) on the sideline with injuries, #1 Rafael dos Anjos will square off against #4 Colby Covington.
Dos Anjos (28-9) is a former lightweight champion and has won all three of his fights since moving up to 170 lbs.  The biggest win he had at welterweight was in December when he defeated one of the greatest 170 pounders of all-time, former welterweight champion Robbie Lawler via unanimous decision.
Remember a few years ago when Chael Sonnen talked a lot of smack?  He may have crossed the line a few times, but he was winning fights, hyping fights and getting fans and media to talk about him.  Well, Covington (13-1) has taken a page out of Sonnen's book and written a few chapters himself.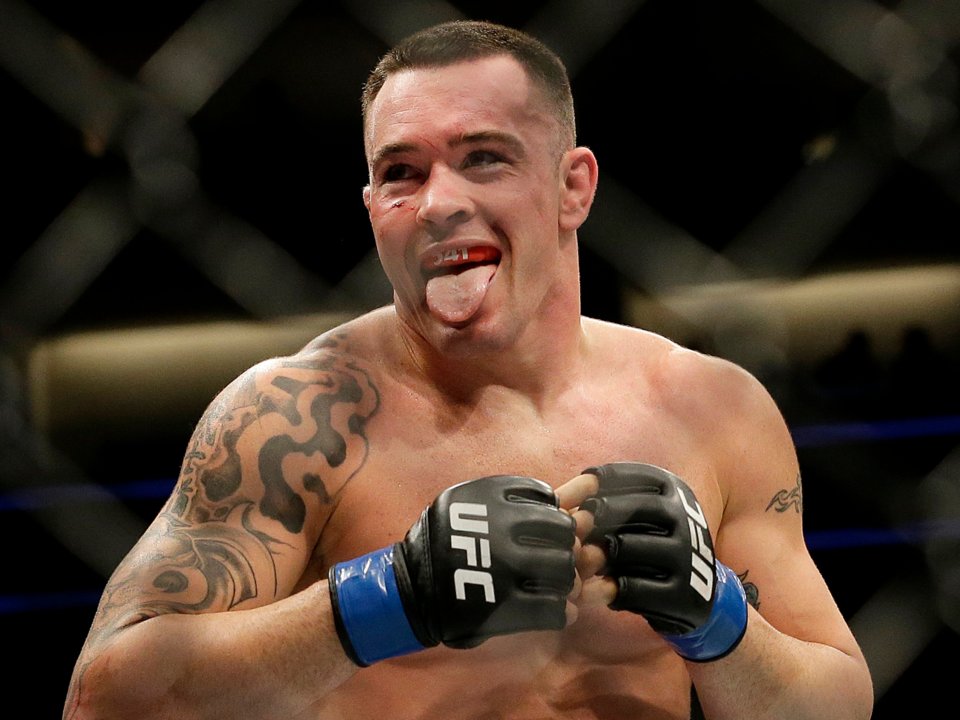 Convington has gone full heal.  He will say things just to get a reaction from his opponents and their fans.  Like Sonnen, he is attacking Brazil and that can lead to backlash from the Brazilian fans who love their fighters.  When a Brazilian fighter is in the octagon, the Brazilian fans chant "Uh Vai Morrer" which translated from Portuguese means "You're Gonna Die."
Convington got the biggest win of his career in October when he defeated former contender Demian Maia in Brazil.  Convington wasn't shy letting the people of Brazil know what he thought of their country.  The video can be seen below via the UFC YouTube page.
Like Sonnen, Convington is primarily a wrestler.  His striking isn't nearly what it should be to stand and trade with the best.  But like we've seen many times before, being able to control the fight can lead to victories.
Covington getting a shot against his former teammate Woodley would make for some great trash talk leading up to the fight, but dos Anjos appears to be clicking on all cylinders.
Prediction:  Dos Anjos 4th TKO
3. Two Rising Heavyweight Will Fights
The heavyweight division for many years has been filled with older fighters.  There are two up-and-coming heavyweights fighting Saturday night, they just aren't fighting each other.
#12 ranked Tai Tuivasa will look for the biggest win of his career over former heavyweight champion #9 Andrei Arlovski.  Tuivasa, 25, has seven wins with zero losses and all seven of his wins are via first round knockout.  Arlovski, 39, has won two straight fights, after losing five straight, but both his wins were via decision.
Look for Arlovski to keep the distance early and whether the storm of Tuivasa.  But all it takes is one shot, especially in the heavyweight division, and it's lights out.
Prediction:  Tuivasa 1st Round Knockout
The other rising heavyweight is 27-year-old Curtis Blaydes.  The #4 ranked Blaydes (9-1) defeated Mark Hunt via decision in February.  Blaydes does an excellent job of utilizing his wrestling to get his opponents to the ground where he lands his ground and pound.  If he continue moving up the ranks, he will have to get through one of the most decoraded strikers in the UFC's history, Alistair Overeem.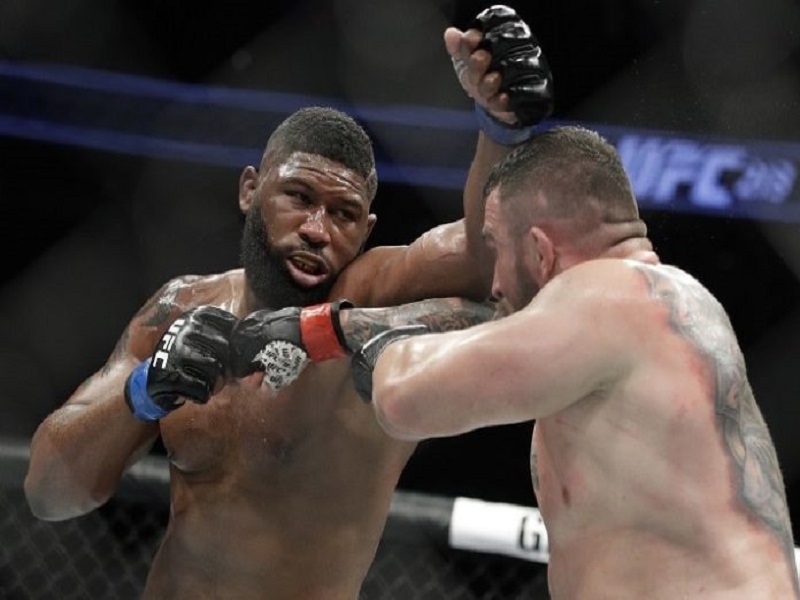 The #2 ranked Overeem (43-16) will look to bounce back after getting knocked out cold by Francis Ngannou.  Overeem, 38, hasn't lost a decision since 2005, so it seems unlikey Blaydes will grind out a victory over Overeem.
Prediction:  Overeem 2nd Round Knockout
4. A Top-Five Flyweight Matchup
If it wasn't for Demetrious Johnson, Joseph Benavidez could very well be the champion at 125 lbs.  Unfortunately for #1 Benavidez (25-4), he has already gotten two title shots against Johnson, losing both times.  The first time he lost via decision and the second fight, he lost via first round knockout.  The good news for Benavidez, the second fight was in December 2013, so if he does win his fight Saturday night, he might get a third crack at the belt.
Benavidez has won all six of his fights since his second loss to Johnson, but hasn't stepped in the octagon since December 2016.
But Benavidez has a big task in front of him, taking on #5  (16-3).  Pettis has won four of five, but hasn't had finish in any of those four wins.  Pettis, the younger brother of former lightweight champion Anthony Pettis, is only 24-years-old.  It appears he may have bitten off more than he can chew here and should learn a thing or two from the veteran Benavidez.
Prediction:  Benavidez Decision
5.  CM Punk Returns
CM Punk will make his second walk into the octagon, taking on Mike Jackson.  Both fighters are 0-1, with both losses coming to Mickey Gall.  This could very well be the worst fight in the history of the UFC.  Neither one of these fighters deserve to be in the UFC, but where we are.  How this fight is in the UFC, let alone on pay-per-view when there are plenty of proven fighters fighting below them, shows how much money rules in all aspects of not just MMA, but all sports.
There isn't a lot of tape on these fighters to break down.  Both Punk and Jackson lost in the first round to Gall.  Punk got submitted 2:14 into the first and Jackson lasted just 45-seconds before Gall also submitted him.
Both fighters haven't fought recently, both fighting Gall in 2016.  They have both been training since their losses, but with little inexperience, either fighters' best chance in winning the fight is going in, throwing down and look to hurt the other fighter early.  No need for a game plan so early in your career.
Prediction:  *sigh* Punk 2nd Round TKO