UFC 205 Is Here And Here's What Is Going To Happen
UFC 205 is making its first stop in New York and matchmakers didn't hold any punches when putting together this fight card.  There are a few other fights besides the ones I mention, but these are the ones that I am looking forward to the most.
#2 Khabib Nurmagomedov (23-0) verses #6 Michael Johnson (18-10):
Nurmagomedov probably deserves to be fighting Lightweight Champion Eddie Alvarez for the belt instead of Conor McGregor, but it's the fight game.  Nurmagomedov gets injured often and is more of a grinder than a knockout artist.  So here we are.  Nurmagomedov is fighting on the prelims while Conor while sell the fight while headlining another card.  Johnson is coming off an impressive first round knockout of Dustin Poirier back in September.  Most fighters enter mixed martial arts with some sort of a combat sports background. For Johnson, it's wrestling.  After some fighters become comfortable fighting, they forget what got them to the UFC.  That appears to be the case with Johnson.  He has been keeping his last few fights on the feet and because of that, he has lost two of his last three.  Nurmagomedov hasn't forgotten his roots of Sambo.  He will take Johnson down at will and win this fight via unanimous decision.
#2 Frankie Edgar (20-5-1) verses #7 Jeremy Stephens (25-12)
Frankie Edgar may have the biggest heart in all of the UFC.  If you don't believe me, watch his second and third fights verses Gray Maynard.  He is the former Lightweight Champion and just lost a five round battle with Jose Aldo for the interim Featherweight Championship back at UFC 200.  Jeremy Stephens is coming off the biggest win of his career when he beat former Bantamweight Champion Renan Barao by unanimous decision this past May.  He hits really hard for a 145 pounder, but Edgar is outstanding at getting in and out of the pocket quickly.  Edgar, like Johnson, seems to forget that wrestling got him here and stood all five rounds with Aldo, losing four of them on the judges cards.  I think one of the best coaches in the game and Edgar's coach, Mark Henry, will have him better prepared and have him utilize his wrestling more in this fight.  I hate having to pick this fight because Edgar has been in some wars and at some point, that catches up with fighters.  I wouldn't be surprised if Stephens gets the knockout, but I got Edgar winning a razor close split decision over Stephens.
#1 Miesha Tate (18-6) verses #8 Raquel Pennington (8-5)
This is a classic fight of the veteran verses the rising star.  Tate just lost the belt at UFC 200 in what could have been the worst performance of her career.  She barely made weight and it showed.  She did not look like she wanted to fight that night and tapped due to a choke in the first round.  Pennington on the other hand has won three in a row since losing a split decision to Holly Holm.  She is hungry and wants a chance at the belt.  Tate is known for being a slow starter so I see Pennington putting the pressure on her early and getting a first round TKO.
#5 Kelvin Gastelum (12-2) verses #6 Donald Cerrone (31-7)
This was a fight I was really looking forward to watching.  Notice how I said was?  Well, that's because at the weigh-ins Friday morning, Gastelum tweeted that he would not be able to make the weight.  This means that even though Cerrone already weighed in, that the fight was cancelled.  This is the fourth time Gastelum has missed weight, but he was able to fight the other three times, after giving his opponent a percentage of his purse.  Cerrone, aka Cowboy, is a fan favorite for always having exciting fights and willing to fight anyone, anywhere, at anytime.  There are reports of Cerrone fighting Matt Brown at UFC 206 next month.
#2 Chris Weidman (13-1) verses #4 Yoel Romero
Yoel Romero (left) looks to continue his winning streak verses Chris Weidman (right) Saturday night at Madison Square Garden. Photo taken off of www.mmaweekly.com.
It's been almost a year since Weidman was TKO'd by Luke Rockhold, thus losing his belt.  It was Weidman's first loss, so it will be interesting to see how he responds after not getting his hand raised for the first time.  One thing I do know, Weidman will have the home-field advantage with the fight taking place in New York.  Weidman wrestled in high school out of New York and wrestled in college at Hofstra, where he was an All-American.  He currently trains at the Serra-Longo gym in New York.  As I said above, Weidman has a lot of wrestling experience.  Romero on the other hand, is a world class wrestler.  He won a silver medal at the Sydney Olympic Games in 2000.  As for his MMA career, he has won seven straight fights, five of them by knockouts.  Romero is returning from suspension, due to having a banned substance in his system.  It was proven that he took a substance that was contaminated with the illegal substance, which lead to him receiving only a six month suspension.  One problem Romero seems to always seems to have an issue with is cardio.  I expect Weidman to weather the storm early by Romero and get the TKO in the third round.
Strawweight Champion Joanna Jedrzejczyk (12-0) verses #2 Karolina Kowalkiewicz (10-0)
Joanna Jedrzejczyk is the UFC Strawweight Champion and looks to defend her belt for a fourth time.  This photo is off of www.mmajunkie.com.
I will be the first to say anything can happen in a fight.  However, this is the easiest fight for me to predict.  Jedrzejczyk is a great champion and everyone else in the division in just not on her level.  I know Kowalkiewicz just had a huge win Rose Namajunas, but it was a close, split decision win.  Jedrzejczyk has power and her opponents leave the octagon not looking the same as they did when they entered.  Jedrzejczyk will get a first round TKO.
Welterweight Champion Tyron Woodley (16-3) verses #2 Stephen Thompson (13-1)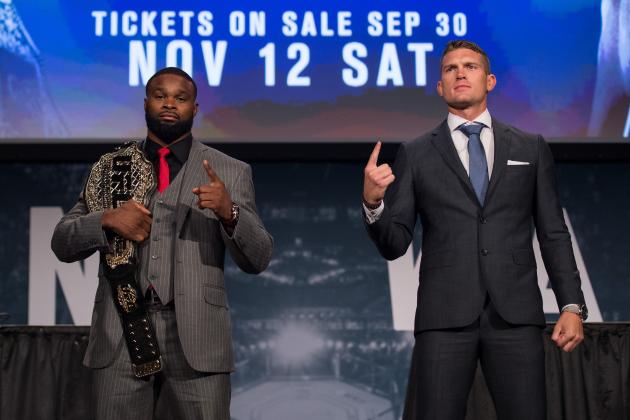 Welterweight Champion Tyron Woodley defends his belt for the first time against Stephen Thompson Saturday night in NYC.  This photo was taken off www.bleacherreport.com.
This can be other case in which the wrestler, Woodley, thinks he can out-strike the striker, Thompson.  Maybe he can catch him and get the knockout, but Thompson has very unusual striking.  He throws power kicks effortlessly and does an excellent jobs using his angles to land his strikes.  Thompson is a tall, lengthy fighter and Woodley will have to get on the inside to land any takedowns, which is going to be hard to do.  I think Thompson picks him apart and wins by decision.
Lightweight Champion Eddie Alvarez (28-4) verses Featherweight Champion Conor McGregor (20-3)
Lightweight Champion Eddie Alvares (left) puts his belt on the line verses Featherweight Champion Conor McGregor (right) while UFC President Dana White (center) keeps the two separated.  This photo was taken off www.mmaweekly.com
In the main event of the evening, we have one of the most anticipated fights in UFC history.  Every McGregor fight seems to be the biggest fight ever lately, but this fight represents more than just two men fighting.  If McGregor wins, he will be the first UFC fighter ever to hold two UFC belts from different weight divisions simultaneously.  Alvarez is looking to defend his belt for the first time since winning the belt after getting the first round TKO over Rafael dos Anjos.  If he wanted to, Alvarez could take McGregor down at will and hold him down for five rounds.  McGregor is excellent at hyping up his fights and talking a lot of smack.  He has gotten in his opponents' head in the past and it shows when they fight.  Alvarez seems to want to stand and trade shots with McGregor.  McGregor is coming up to 155 lbs from 145 lbs where he is champ, but he is still taller and has the reach advantage on Alvarez.  This fight really can go either way and both fighters have the power to knock the other one out.  McGregor just had a five round war with Nate Diaz in August, so we will see if that hurt his chin.  I still think McGregor gets the TKO in the second round and has a belt on each shoulder at the end of the night.