Aaron Gordon Over Julius Randle? Did The Magic Make The Right Choice?
The Orlando Magic had the #4 pick in the 2014 NBA draft. Many people thought they might go point guard with Aussie Dante Exum. Many others thought they'd decide between 3 one-n-done power forwards: Aaron Gordon, Julius Randle, and Noah Vonleh. After watching Randle vs. Gordon last night, I ask, did they make the right decision?
Both Gordon and Randle had their rookie seasons interrupted by injuries. Randle didn't get off the runway, hurt in the opening minutes of opening night, while Gordon dealt with a broken left foot that cost him half his rookie campaign. But in year two for each, we've seen them come off the bench, but eventually earn starting duties for their teams.
So, did the Magic choose wisely? Or do they wish they had a mulligan?
PLAYER
G
MPG
FGP
FTP
3PT
3PTP
RPG
APG
SPG
TPG
BPG
PPG
Aaron Gordon

PF | ORL

62
23.1
47.3
69.7
30
29.1
6.58
1.58
0.73
0.87
0.73
8.55
Julius Randle

PF | LAL

64
27.7
42.9
69.4
9
29.0
10.12
1.55
0.61
1.78
0.36
11.67
Those are just numbers. Do they mean anything? Magic fans, probably would rather look at numbers recently, as Gordon has really flashed his potential. Here is the last 4 weeks.
PLAYER
G
MPG
FGP
FTP
3PT
3PTP
RPG
APG
SPG
TPG
BPG
PPG
Aaron Gordon

PF | ORL

12
29.2
48.1
72.7
7
24.1
9.33
2.33
1.33
1.08
0.67
11.58
Julius Randle

PF | LAL

11
29.4
47.7
67.4
2
25.0
10.73
0.73
0.45
1.27
0.09
14.09
Very similar, eh?
I'm curious what you guys think.
I must admit, I've changed my mind. I said the Magic should take Exum or Randle in 2014. I didn't think Gordon would be much of an offensive player. I was sorta right. But, now, I'd take Gordon.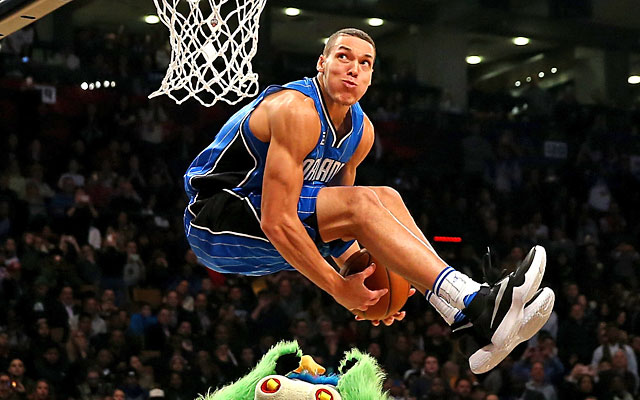 I think Randle will be the better scorer. He's simply more natural and aggressive on that end of the floor. Randle rebounds with passion, persistence, and instinct, while Gordon is incredibly athletic and gets balls out of his area. Neither can shoot much yet, and probably each will struggle to get much above league average. Both are going to have long NBA careers. Neither is a bust.
But I think it's the athleticism, and defensive potential that makes Gordon the better choice. Sticking with my pre-draft upside comparisons of Shawn Marion and Zach Randolph, it's obvious which player makes his team better. It's Marion, and in this case Gordon. That's not a knock on Z-Bo, who is a great player. He's not bringing as much to the table.
Gordon, although he's not going to be your lead dog, and probably not even your second offensive option, he's going to make your team better if you put him in that complimentary role. Think of Marion with Nash and Stoudemire or with Dirk and Terry. The Matrix filled all the gaps. Randle is more likely to lead a team in scoring one day, but it's Gordon that'll fit better on a championship team filling those gaps.