95 Players Are Leaving School Early For The NFL
Is the NFL early-entry list getting too long? There are 95 players who are leaving school early for the NFL this season. Last year 96 players declared early for the NFL Draft. There were 74 players granted special early eligibility in 2015. There were a record 98 early entrants in the 2014 draft; there were 73 in the 2013 draft, 65 in 2012, 56 in 2011, 53 in 2010, 46 in 2009, 53 in 2008, 40 in 2007 and 52 in 2006. The number of underclassmen had increased six years in a row until the dropoff in 2015. These lists do not include players who fulfilled degree requirements and had eligibility remaining and are by-passing a return to school.
This is the unofficial list at NFL.com.
» Jamal Adams, S, LSU
» Alex Anzalone, LB, Florida
» Budda Baker, S, Washington
» Derek Barnett, DE, Tennessee
» Garett Bolles, OT, Utah
» Caleb Brantley, DT, Florida
» Noah Brown, WR, Ohio State
» KD Cannon, WR, Baylor
» Gareon Conley, CB, Ohio State
» James Conner, RB, Pitt
» Dalvin Cook, RB, Florida State
» Zach Cunningham, LB, Vanderbilt
» Malachi Dupre, WR, LSU
» Ukeme Eligwe, LB, Georgia Southern
» Jerod Evans, QB, Virginia Tech
» Isaiah Ford, WR, Virginia Tech
» D'Onta Foreman, RB, Texas
» Leonard Fournette, RB, LSU
» Wayne Gallman, RB, Clemson
» Myles Garrett, DE, Texas A&M
» Shelton Gibson, WR, West Virginia
» Davon Godchaux, DL, LSU
» Chris Godwin, WR, Penn State
» Jermaine Grace, LB, Miami
» Derrick Griffin, WR, Texas Southern
» Chad Hansen, WR, Cal
» Charles Harris, DE, Missouri
» Carlos Henderson, WR, Louisiana Tech
» Brian Hill, RB, Wyoming
» Bucky Hodges, TE, Virginia Tech
» Elijah Hood, RB, North Carolina
» Malik Hooker, S, Ohio State
» Marlon Humphrey, CB, Alabama
» Adoree' Jackson, CB, USC
» Roderick Johnson, OT, Florida State
» Aaron Jones, RB, UTEP
» Josh Jones, S, N.C. State
» Nazair Jones, DT, North Carolina
» Sidney Jones, CB, Washington
» Brad Kaaya, QB, Miami
» Alvin Kamara, RB, Tennessee
» DeShone Kizer, QB, Notre Dame
» Jerome Lane, WR, Akron
» Marshon Lattimore, CB, Ohio State
» Carl Lawson, DE, Auburn
» Elijah Lee, LB, Kansas State
» Marlon Mack, RB, USF
» Patrick Mahomes, QB, Texas Tech
» Josh Malone, WR, Tennessee
» Damien Mama, OL, USC
» Christian McCaffrey, RB, Stanford
» Malik McDowell, DL, Michigan State
» Isaiah McKenzie, WR, Georgia
» Deon-Tay McManus, WR, Marshall
» Raekwon McMillan, LB, Ohio State
» Jeremy McNichols, RB, Boise State
» Joe Mixon, RB, Oklahoma
» Al-Quadin Muhammad, DE, Miami
» Montae Nicholson, S, Michigan State
» David Njoku, TE, Miami
» Speedy Noil, WR, Texas A&M
» Marcus Oliver, LB, Indiana
» Jabrill Peppers, LB/S, Michigan
» Samaje Perine, RB, Oklahoma
» Elijah Qualls, DL, Washington
» Ryan Ramczyk, OT, Wisconsin
» Devine Redding, RB, Indiana
» Cam Robinson, OT, Alabama
» John Ross, WR, Washington
» Travis Rudolph, WR, FSU
» Artavis Scott, WR, Clemson
» Curtis Samuel, H-back, Ohio State
» Ricky Seals-Jones, WR, Texas A&M
» Adam Shaheen, TE, Ashland
» David Sharpe, OL, Florida
» Garrett Sickels, DE, Penn State
» JuJu Smith-Schuster, WR, USC
» ArDarius Stewart, WR, Alabama
» Damore'ea Stringfellow, WR, Ole Miss
» Teez Tabor, CB, Florida
» Vincent Taylor, DT, Oklahoma State
» Solomon Thomas, DL, Stanford
» Mitch Trubisky, QB, North Carolina
» Eddie Vanderdoes, DL, UCLA
» Anthony Walker, LB, Northwestern
» Charles Walker, DL, Oklahoma
» Deshaun Watson, QB, Clemson
» T.J. Watt, LB, Wisconsin
» Marcus Williams, S, Utah
» Stanley "Boom" Williams, RB, Kentucky
» Mike Williams, WR, Clemson
» Howard Wilson, CB, Houston
» Quincy Wilson, CB, Florida
» Joe Yearby, RB, Miami
» Ishmael Zamora, WR, Baylor
Last year 30 early entrants went undrafted. For fans, it's a feeling of I-told-you-so, and why-would-you-do-that? For players, it's far more complicated. Misinformation is hardly a factor anymore. Players have access to the best advice available on their draft stock. Most pursue the NFL dream anyway, and they do so for a variety of reasons that go beyond what a fan thinks of hurting their favorite college football team.
Giving up the ability to get a college degree for free isn't ideal, but plenty of people leave school without a degree to pursue work.
Any personal reasons a player may choose to leave school are hard to argue against. Some do it for family. Some for money. Some because transferring for more playing time no longer makes sense. Some may have no interest in school, and some may never have had any interest.
What is most interesting is the number of less experienced players leaving school more often. The redshirt sophomore leaving for the pros was a rarity, but is becoming more and more common. We could see as many as 5 taken in the first round, and several others drafted.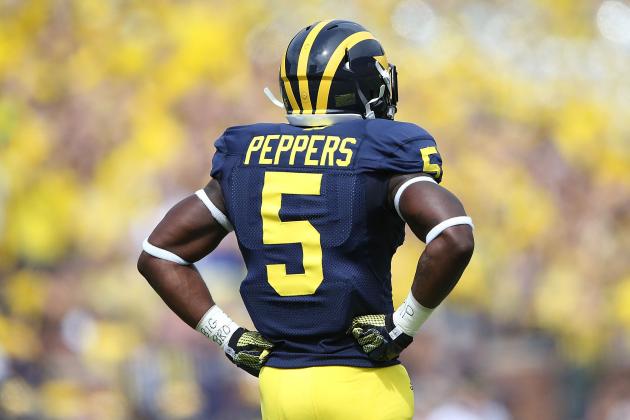 I say to each their own. Is the number too high? Most likely. But you can't control a person's decision, even if you think it is a bad one. How many people finish college and still don't get a job in the field of study they desire? All you can do is provide them enough information to make an informed decision. And the league and the schools do that. Fans are always going to have opinions on whether or not a player is "ready" for the NFL, but the question of how many leaving early is too many is completely arbitrary.