It's Time For The Best Bets On NFL Over/Under Win Totals
The NFL schedules are out. Free agency is mostly done. The NFL Draft is complete. We can finally see what each team should look like and what they're up against now. Sadly, injuries will happen between now and the season starting that certainly could and will change things, but it's time for the first wave of predictions. Books in Vegas are releasing over/under win totals for the 2017 season. The ones you see below are courtesy of South Point Sportsbook (@SouthPointlv).
A very important note: The total of wins or losses for a NFL season won't exceed 256. The only way it goes under that middle number is for ties. These O/U totals add up to a 259-253 record, meaning if you bet under on all with the same odds, you'd come out ahead. The books anticipate fans betting far more overs, which leads to them stealing wins from you with at least a few of these totals. Keep that in mind.
NFC EAST
Favorite bet:
The Giants just hit over 9 for the first time since 2010 this past year. I liked them as a division winner last year when the won 11, but don't think I'm comfortable with them them as much knowing how badly they struggled running the ball and blocking up front. I'm going under 9 on them.
The rest: Dallas (Over 9.5), Philadelphia (Under 8.5), Washington (Under 7.5)
NFC NORTH
Favorite bet:
This is probably the most accurately assessed division. Believe it or not, the Packers only hit the over on 10 wins four times in the last nine seasons, and recall it took them 6 straight wins to get to 10 wins last year. So they're out as the best bet. I think the Bears and Lions are right on it too, so I'm going Vikings under 8.5. Minnesota fell apart in the second half of last season, and while I love their defense, the offense doesn't have me sold as being much better and they have the look of a .500 team and I like getting that half win to my benefit.
The rest: Green Bay (Over 10), Detroit (Over 8), Chicago (Over 5)
NFC SOUTH
Favorite bet:
The highest win total projection (35.5) is for this division, saying on paper it's the best and most competitive top to bottom. I concur. What is troubling is the history and how much of that total is based on hope. The Saints have gone 7-9 for 3 straight years. The Bucs haven't won double-digit games or even outscored their opponents in 7 seasons. The Panthers win totals since Ron Rivera and Cam Newton arrived have been: 6, 7, 12, 7, 15, and 6. Way under and over 9 scares me. At least Atlanta has seen it's win total climb from 4-6-8-11 over four seasons, but that barely put them over in one of the 10 greatest offensive seasons ever a year ago. In the end, the Bucs make me feel most comfortable in matching or exceeding last year so I'll go over the 8.
The rest: Atlanta (Under 10), Carolina (Under 9), New Orleans (Under 8.5)
NFC WEST
Favorite bet:
Not surprisingly this division has by far the lowest total of 28 wins. In 2010 it was the worst division in football with every team under .500. In 2013 it was the best division with 3 teams winning 10 or more and the Rams going 7-9. It seems to have trended all the way around the clock. The Seahawks feel shaky, the Cards slipped on offense and defense and had a rough offseason, and the 49ers should be better, but that total is right at it. This one feels easy. 2016 was the first time since 2011 the Rams went under 5.5. Jeff Fisher wasn't good, but he wasn't brutal until last year. I like the over with LA.
The rest: Seattle (Under 10.5), Arizona (Under 7.5), San Francisco (Over 4.5)
AFC EAST
Favorite bet:
The Patriots have won 11 or more games all but 3 seasons since they won their first Super Bowl in the 2001 season. They've won 12 or more every year since 2010. Brady getting hurt isn't even a major concern to me because they kept Garrapolo. Hit the over. The Dolphins got lucky, but are improving, should be very interesting. The Bills and Jets actually are both good bets I believe, but not the tops in this undervalued (second lowest total of 30) division.
The rest: Miami (Over 7.5), Buffalo (Over 6), New York (Under 5.5)
AFC NORTH
Favorite bet: 
The Bengals are coming off a losing season, and their total suggests a winning year. With good reason. 5 straight years previous they won 9 or more, and they just had a great draft which should pay immediate dividends. I feel good about the over on 8.5 wins. The Steelers, Ravens, and Browns all look and feel like square plays to me based on popular perceptions.
The rest: Pittsburgh (Under 10.5), Baltimore (Under 9.5), Cleveland (Over 4)
AFC SOUTH
Favorite bet:
The Titans haven't won double-digit games since 2008. Yeah, I liked what I saw last year, but this division is pretty tightly bound. The Texans keep winning 9 with no quarterback, and the Colts low mark in the Andrew Luck era is 8 wins, each of the last two years. Those numbers are consistent. The Jags have stunk, but that number is more likely to rise than fall making the under 9.5 on Tennessee make too much sense.
The rest: Indianapolis (Over 9), Houston (Under 8.5), Jacksonville (Over 5.5)
AFC WEST
Favorite bet: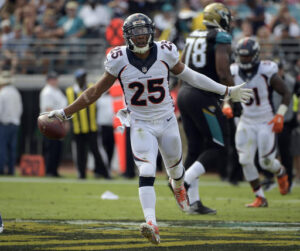 Honestly, this division terrifies me. Coaching changes in 2 spots. A team moving. Two teams with traditions of winning, one without, and another with a suspiciously high total. Denver to me feels like they're on a downhill trajectory with new leadership, quarterback uncertainty, offensive line issues, and some age. I trust KC and Andy Reid, and think the Raiders should be the division favorites and I do suspect some bounce-back for the Chargers, so give me the Broncos under 8.5.
The rest: Oakland (Over 9.5), Kansas City (Over 9), San Diego (Under 7.5)
I didn't add it up until after, but I like that I hit right in the middle. I have 16 overs, and 16 unders. I'll be interested to see how much my opinion changes by early September when I'm making predictions.