Home
Tags
2030 Winter Olympics
Tag: 2030 Winter Olympics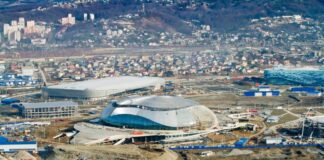 The Olympics event cost billions of dollars. https://www.youtube.com/watch?v=Pfmepk4HOvs You do wonder whether the proponents of bringing the 2030 Winter Olympics to Salt Lake City, Utah paid...
Taxpayers on the hook. https://www.youtube.com/watch?v=Bl889W2A4M0 Sometimes you wonder why politicians ever even think of spending public money on the Olympics. There are so many Olympics sized...
Odds are good something will happen. https://www.youtube.com/watch?v=tcEaPrvE9Lc&t=1s State lawmakers around the country are back to work and for a number of them, sports gambling is a...
The United States Olympic Committee, which seemingly is infected with some sort of Olympics related corruption, is going ahead and beginning the mechanism that would put forth Salt Lake City as its choice to bid for the 2030 Winter Olympics.
And they are off. https://www.youtube.com/watch?v=nf5nytzv6U8 North Korea wants it, South Korea wants it. Indonesia wants it. They all want to host the 2032 Summer Olympics. For...
The International Olympic Committee suffered a defeat at the polls in Sion and Valais, Switzerland on Sunday as voters rejected a chance to help fund the 2026 Winter Olympics in that area.
It is never too early to start a political campaign. There is one shaping up in Colorado as pro-Winter Olympics forces are ready to battle those who don't want to see an Olympics in the state in 2030.
It appears that the backers of the 2026 Sapporo, Japan Winter Olympics bid really don't want to go ahead with the bid. The Sapporo backers may want to try to land the 2030 Winter Games but there really isn't much of an explanation as to why the group is seeking a delay.